Here Burns My Candle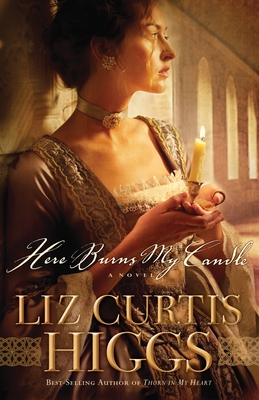 Here Burns My Candle
Waterbrook Press, Paperback, 9781400070015, 467pp.
Publication Date: March 16, 2010
* Individual store prices may vary.
Buy at Local Store
Enter your zip code below to purchase from an indie close to you.
or
Buy Here
Description
A mother who cannot face her future.
A daughter who cannot escape her past.
Lady Elisabeth Kerr is a keeper of secrets. A Highlander by birth and a Lowlander by marriage, she honors the "auld" ways, even as doubts and fears stir deep within her.
Her husband, Lord Donald, has secrets of his own, well hidden from the household, yet whispered among the town gossips.
His mother, the dowager Lady Marjory, hides gold beneath her floor and guilt inside her heart. Though her two abiding passions are maintaining her place in society and coddling her grown sons, Marjory's many regrets, buried in Greyfriars Churchyard, continue to plague her.
One by one the Kerrfamilysecrets begin to surface, even as bonny Prince Charlie and his rebel army ride into Edinburgh in September 1745, intent on capturing the crown.
A timeless story of love and betrayal, loss and redemption, flickering against the vivid backdrop of eighteenth-century Scotland, "Here Burns My Candle" illumines the dark side of human nature, even as hope, the brightest of tapers, lights the way home.
About the Author
Liz Curtis Higgsis an award-winning speaker as well as the author of twenty-eight books, includingBad Girls of the Bibleand Thorn in My Heart. Her Parable Series for children has been awarded the ECPA Gold Medallion for Excellence.
Praise For Here Burns My Candle…
Praise for Here Burns My Candle

"Liz Curtis Higgs has an unmatched ability to illuminate the depth of human emotions while taking her readers on a breathtaking journey through the darkness and light of another time and another place. With the deft hand only a master storyteller can apply, Higgs reaches back to the past and weaves a multi-threaded tapestry into a brilliant tale of betrayal and challenge, love and redemption. Her gift continues to shine."
—BJ Hoff, author of The Emerald Ballad series

"A wonderful retelling of the story of Ruth by one of my favorite authors. Here Burns My Candle is rich with historic detail and living, breathing characters that engaged me from page one right through to the perfect ending."
—Francine Rivers, author of Redeeming Love

"Prepare to burn your own candle well into the night as Higgs treats us to a verra wonderful Scottish tale of faith, forgiveness, love, loss, and secrets. I couldna put it doon!"
—Deeanne Gist, author of A Bride in the Bargain

"Settle in with Here Burns My Candle, Liz Curtis Higgs's imaginative reworking of the tale of Naomi and Ruth, and venture back to a dangerous and fascinating time with characters who are as endearing as they are flawed. You can almost hear the drums of war and the swish of kilts and satin."
—Angela Hunt, author of Let Darkness Come

"Higgs's pen flows with gold when it turns to Scotland. Enticing from gripping first page to satisfying last, Here Burns My Candle will sweep you away!"
—Tamera Alexander, author of Beyond This Moment

"Once again Liz Curtis Higgs pens an exceptional story of intrigue, romance, and spiritual faith. Her attention to historical detail gives this story a life all its own, and the characters were so real I found myself thinking about them throughout the day. I simply could not put this book down." 
—Tracie Peterson, author of Dawn's Prelude

"Liz Curtis Higgs writes with a cinematic eye—color, texture, emotional depth. Her words give breath to this fresh twist on a beloved Old Testament story. Here Burns My Candle radiates the author's love of Scotland and its mesmeric history in this story of women bound by obligation yet tethered to devotion. It will keep you up all night until you've turned the last dramatic page!"
—Patricia Hickman, author of The Pirate Queen

"I love a story that engages the heart first, the mind second. While reading Higgs's novel, I became her noble heroine and was convicted by similarities to her antagonist, learning through it all. Come away to an enchanting glimpse of ancient Scotland and beyond. Truly amazing."
—Lisa Tawn Bergren, author of The Begotten