The Promise of the Second Wind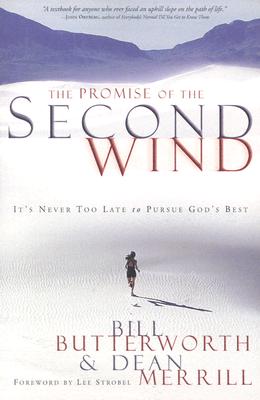 The Promise of the Second Wind
It's Never Too Late to Pursue God's Best
Waterbrook Press, Paperback, 9781400070534, 208pp.
Publication Date: December 7, 2004
* Individual store prices may vary.
Buy at Local Store
Enter your zip code below to purchase from an indie close to you.
or
Not Currently Available for Direct Purchase
Description
Fresh Fuel for Running the Good Race.
At times we all feel as if we can t go on. Our dreams have faded or crashed. We wake up one day and realize we re just plodding through life. We ve embraced life, but still we wonder what might have been? What happened to our hopes and plans for stronger relationships, greater career success, and lasting achievements? Why have we settled for what" is" instead of striving for what "could be"?
When these conditions or other dilemmas leave you feeling trapped, you are an ideal candidate for one of life's great surprises a second wind.
God wishes to give you such dramatic turnarounds in many areas of life. Just when you think you can t go on, you can tap into the wellspring of God's power and allow him to give your life a jump start. With this newly discovered energy, you can stop your plodding and once again run the race of life with a spirit of exhilaration and joyous abandon.
"From the Hardcover edition.
About the Author
Bill Butterworth is a sought-after speaker in venues throughout North America. A highly regarded author, Butterworth has written books on topics ranging from sports to psychology and self-help issues; he's been a columnist, editor, and script writer. He lives with his wife, Kathi, in Newport Beach, California.

Dean Merrill, quien fuera ejecutivo de publicaciones de Enfoque en la Familia y de la Sociedad Biblica Internacional, es autor o coautor de 31 libros, entre ellos The God Who Won't Let Go y Sinners in the Hands of an Angry Church. Fue Presidente de la Asociacion de Casas Editoras Cristianas Evangelicas y miembro de la junta de Global Publishers Alliance, la division internacional de publicacion para la Asociacion. Tambien ha sido editor de revistas, entre ellas Campus Life, Leadership Journal y Christian Herald. Vive con su esposa en Colorado Springs, Colorado.
Praise For The Promise of the Second Wind…
"This book delivers hope! Everyone needs the refreshing power and strength of a second wind."
-- Lee Strobel, author of A Case for Faith

"In Second Wind, Bill and Dean communicate with the joy that is a natural gift and the wisdom that is earned only by hardship and suffering. When they add to it the guidance of great souls that have gone before us, it becomes a textbook for anyone who ever faced an uphill slope on the path of life."
–John Ortberg, author of Everybody's Normal Till You Get To Know Them

"Second Wind will help you renew your strength and get a new grip on your life. Truth and great humor are the hallmarks of this wonderful book of hope and encouragement."
–Stephen Arterburn, founder of Women of Faith and host of New Life Live

"I have known Bill Butterworth for eighteen years and have seen him running strong, completely winded, and given a Second Wind to run again. In the book he and Dean Merrill have written, Bill speaks not only from his own experience but from the experience of countless others whose strength has been renewed from a Second Wind. So if you have ever felt your legs turn to lead, ever felt your lungs burn with exhaustion, ever felt you couldn't go another step further, this book will not only lift you up, it will cheer you on."
–Ken Gire, author of The Divine Embrace, Moments with the Savior, and Windows of the Soul

"For those banged and bruised by life's first half, for those struggling with who to be and what to do with the thirty 'bonus years' twenty-first century people are given, Second Wind is a book of hope and promise."
–Bob Buford, founder Leadership Network and author of Halftime; Changing Your Game Plan from Success to Significance

"Bill Butterworth makes me laugh, but even more important, he makes me think. Bill is much more than an inspirational speaker, more than a teacher. He is a locomotive of energy, commitment, and faith in our Judeo-Christian principles. No wonder I like him so much."
–Jack Kemp, former congressman and codirector of Empower America