Everything You Always Wanted to Know about God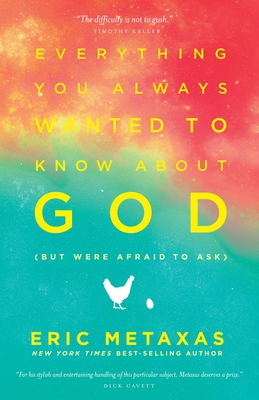 Everything You Always Wanted to Know about God
But Were Afraid to Ask
Waterbrook Press, Paperback, 9781400071012, 226pp.
Publication Date: October 18, 2005
* Individual store prices may vary.
Buy at Local Store
Enter your zip code below to purchase from an indie close to you.
or
Not Currently Available for Direct Purchase
Description
From the #1 New York Times bestselling author of Bonhoeffer, Miracles, and If You Can Keep It
We all have questions about God. But very few of us get the answers we're looking for-if those answers even exist Do they? Where (in heaven's name) do you go to find out?
Eric Metaxas understands. That's why he's written this refreshingly down-to-earth take on the big questions everyone asks (but not always out loud).
Finally a book that takes questions about God seriously enough to get silly (where appropriate). Wonderfully conversational and often very funny, this book joins you in wondering:
-How can a good God create a world that has evil and suffering?
-Is God anti-sex?
-Doesn't science make God obsolete?
-What's the real story on miracles?
-If God is everywhere, why go to church?
-Don't we already have God within us?
-Isn't God too busy running the universe to care about the details of my day?
-What does the Bible say about things like UFOs, ESP, and the afterlife-and what about Bigfoot?
These questions (and many more like them) get straight answers that don't hide behind dull and confusing theological language. So get the lowdown on the big questions everyone asks-but please try not to laugh (because it's a very serious topic).
About the Author
Eric Metaxas is the #1 New York Times best-selling author of several books, including Bonhoeffer, Amazing Grace, Miracles, Seven Men, Seven Women, and If You Can Keep It. He is the host of The Eric Metaxas Show, a nationally syndicated daily radio program. Metaxas is also the founder and host of Socrates in the City, the acclaimed series of conversations on -life, God, and other small topics.- He is a senior fellow and lecturer at large at the King's College in New York City, where he lives with his wife and daughter.
Praise For Everything You Always Wanted to Know about God…
Praise for
Everything You Always Wanted to Know About God
(But Were Afraid to Ask)

"Quick, witty, engaging, and often profound. These are words I use to describe my friend and one-time colleague Eric Metaxas. This little book is vintage Metaxas. Good and profitable reading."
–Chuck Colson, founder and chairman of Prison Fellowship

"Eric Metaxas has written a book about God based on questions that people are actually asking. His answers are pithy, practical, often funny (who says God doesn't have a sense of humor?), and true. This is a splendidly unconventional introduction to the Christian faith."
–John Wilson, editor of Books & Culture

"An excellent primer on the most important questions of life, engagingly presented in question-and-answer format. A timely and useful book for a searching, spiritually hungry America."
–George Gallup, Jr., founding chairman of the George H. Gallup International Institute

"Finally, a book of apologetics you can give your friends without cringing!"
–Lauren Winner, author of Girl Meets God and Mudhouse Sabbath

"Everything You Always Wanted to Know About God (But Were Afraid to Ask) doesn't intend to impress the reader, but speaks to the reader as a person would in a conversation. I've never encountered this subject dealt with so beautifully as it is dealt with here."
–Bob Grant, host of The Bob Grant Show and author of Let's Be Heard

"Every question in this book is one I have asked, have heard asked, or want to ask! And the answers are so good-humored and easy to read that you almost forget how profound they are."
–Ann B. Davis, Alice of The Brady Bunch

"Rarely do a humorist, a logician, and an orthodox theological popularizer inhabit the same skin, so–quick, now!–join Eric Metaxas in this dialogue with skeptics and let him deftly disabuse you of your vexing bewilderments."
–McCandlish Phillips, author and former New York Times reporter

"To some, God is a stranger…and understandably so. Today's rumors and ignorance of God only deepen the mystery of His character. Metaxas makes it make sense. This clever and unswerving approach engages the intellectual and relaxes the skeptic. This book shows the real side of God–a God who wants us to have both quality and quantity of life."
–Mac McNally, north Atlantic regional director of Young Life

"Eric Metaxas takes you on a landmark tour of humanity's monumental questions in this handy hitchhiker's guide to God. Don't leave home without it."
–Thomas Greanias, best-selling author Raising Atlantis

"For his stylish and entertaining handling of this particular subject, Metaxas deserves a prize."
–Dick Cavett, Emmy Award-winning television personality