Every Single Woman's Battle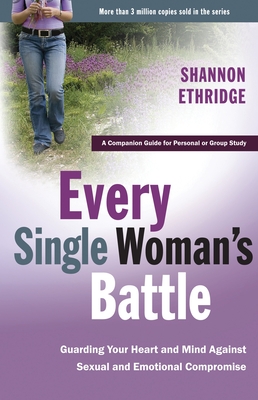 Every Single Woman's Battle
Guarding Your Heart and Mind Against Sexual and Emotional Compromise
Waterbrook Press, Paperback, 9781400071272, 144pp.
Publication Date: August 16, 2005
* Individual store prices may vary.
Shop Local
Enter your zip code below to find indies closest to you.
Description
Powerful Tools for Guarding Your Body, Mind, and Heart
Remaining pure while single isn't easy in a culture that encourages a woman to use her body to gain power, respect, and personal fulfillment. The longing for emotional and physical connection can gradually and subtly lead you into compromises you never intended to make. But you "can" resist the pressures--or reclaim your purity--by building a strong foundation of integrity.
This book, ideal for study with "Every Woman's Battle, " is designed specifically for single women and will give you the tools you need to resist temptation and discover true fulfillment. Through practical and biblical lessons you'll be equipped to:
- understand the unique components of female sexuality
- discern your personal areas of vulnerability
- design a defense plan to protect your heart and mind, as well as your body
- allow God to satisfy the desires He placed within you
Each weekly study section--designed both for individual and small group use in eight-week or twelve-week tracks--guides you deeper into God's Word, then helps you personalize and apply the principles that will help you live in sexual and emotional purity.

About the Author
Shannon Ethridge is an international speaker and certified life coach. She has a master s degree in counseling/human relations from Liberty University and is author of the million-copy bestselling Every Woman s Battle series.
Praise For Every Single Woman's Battle…
Praise for Every Woman's Battle and Every Young Woman's Battle by Shannon Ethridge

"There is a common, almost Victorian, myth that women don't really struggle with sexual sin. That myth causes many women to feel a double shame.The shame of struggling sexually is compounded by the assumption that few, if any, women share the same battle. Shannon Ethridge artfully and boldly unveils the war and offers women a way to enter the battle with courage, hope, and grace. Every Woman's Battle will help both men and women comprehend the glorious beauty and sensuality of holiness. This is a desperately needed book."
—DAN B. ALLENDER, PHD, president of Mars Hill Graduate School and author of The Healing Path

"This book sheds light on the often unspoken sensitivities and issues that women wrestle with. Not only is it well written, it is liberating and refreshing, with sound principles for overcoming the things that threaten to keep us from experiencing the fullness of joy that is part of God's big picture plan for our lives."
—MICHELLE MCKINNEY HAMMOND, speaker, singer, and author of Get Over It and On With It

"A 'powerful shield' for every woman. Shannon's words are convicting, challenging, and confronting."
—DR. TIM CLINTON, president of the American Association of Christian Counselors

"Many of my Bad Girls of the Bible readers have tearfully confessed to me their struggles with sexual sins—promiscuity, adultery, and self-gratification among them. Since we cannot pretend Christian women don't face these temptations, it's a relief to have a sound resource like this one to recommend. Shannon Ethridge's straightforward, nonjudgmental, step-bystep approach can help women 'come clean' in the best way possible—through an intimate relationship with the Lover of their souls."
—LIZ CURTIS HIGGS, best-selling author of Bad Girls of the Bible and Here Burns My Candle

"If you're like me, you are going to find Shannon's book immeasurably helpful. Every Woman's Battle is the best resource I know for embracing God's plan of sexual and emotional integrity as a woman."
—LESLIE PARROTT, coauthor of Saving Your Marriage Before It Starts