DragonQuest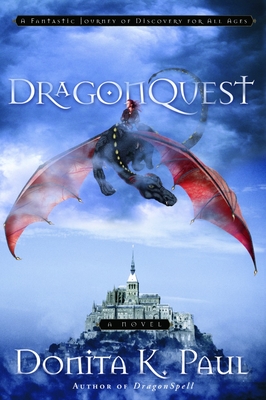 DragonQuest
Waterbrook Press, Paperback, 9781400071296, 368pp.
Publication Date: June 7, 2005
* Individual store prices may vary.
Buy at Local Store
Enter your zip code below to purchase from an indie close to you.
or
Buy Here
Description
A New Quest Begins
A dragonkeeper of Paladin, Kale is summoned from the Hall to The Bogs by the Wizard Fenworth to serve as his apprentice and tend his newly hatched meech dragon, Regidor. But Kale isn't going alone. The Hall is sending a student to monitor her performance and report back to the scholars. Worst of all, it's Bardon-an older boy Kale finds irritating, but who at least can hold his own in a sword fight.
New Friendships Are Forged
Meanwhile, the Wizard Risto has seized another meech dragon, bringing him dangerously close to gaining the power he seeks. So with only a motley band of companions, Kale sets out on a desperate quest to rescue the second meech, to free those dragons already enslaved, and to thwart Risto's devious plans. It's up to Kale to lead the search and to embrace the role that's rightfully hers. But will her efforts be enough to save the land of Amara from the dark future that awaits at Risto's hands?
About the Author
Donita K. Paul is a retired teacher and award-winning author of Dragonspell. When not writing, she is often engaged in mentoring writers of all ages. Donita lives in Colorado Springs, Colorado. Her two grown children make her proud and her two grandsons make her laugh. Her dog is a constant companion, even having his own chair at the computer desk.
Praise For DragonQuest…

Praise for DRAGONQUEST
By Donita K. Paul


"Donita K. Paul's DragonQuest is a rich tapestry of creatures, characters, and adventure.  A whimsical allegory, casting bright light on ultimate truth." 
–Lyn Cote, author of The Women of Ivy Manor series


"You never know what to expect in a magical world full of creatures like mordakleeps, blimmets, or doneels. But one thing is sure: This grand, fantastical odyssey of Kale the Dragonkeeper will sweep you off your feet."
–Robert Elmer, author of the HyperLinkz fantasy series for kids


"Shut your eyes, hold your breath, and plunge into the unshackled imagination of Donita K. Paul! In DragonQuest, Kale' s journey of self-discovery continues through a succession of adventures and mishaps that leaves you grinning with breathless, page-turning anticipation. I am in awe of Donita K. Paul's intricate world-building that can rightfully stand alongside master storytellers, Lewis and Tolkien. There is so much depth of heart to this fantastic adventure that it's difficult to say what I most enjoyed. A fantasy must for the very young at heart, no matter your age."
–Linda Wichman, author of Legend of the Emerald Rose


"Donita K. Paul's DragonQuest continues the story of Kale and her well-drawn compatriots, who set out on yet another quest in service to God by serving His people.  Cleverly and compellingly wrought, DragonQuest is a terrific sequel to DragonSpell that is sure to delight readers of all ages."
–Kathleen Morgan, author of Giver of Roses