Dragons of the Watch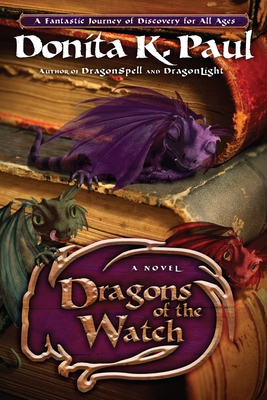 Dragons of the Watch
Waterbrook Press, Paperback, 9781400073412, 387pp.
Publication Date: October 4, 2011
* Individual store prices may vary.
Buy Now
or
Shop Local
Enter your zip code below to purchase from an indie close to you.
Description
Trapped in a forgotten city, bound by secrets, Ellie and Bealomondore must enlist the dragons of the watch to find freedom.
Ellie knows exactly where she is going. She just wants to experience the pomp and circumstance of a royal wedding, then settle into a simple life with a country husband.
With too many choices, Bealomondore's future is a tangle of possibilities. He is respected, well-known, and admired among the elite of Chiril, but Wulder demands he narrow his focus and follow his Creator, one step at a time.
Both Ellie and Bealomondore's plans are thwarted when they find themselves lost in an isolated city. As they discern the needs of a group of wild children and a very old man, clues began to surface and a bigger picture is revealed. With the help of the dragons of the watch, can the two tumanhofers find the way out--and perhaps discover their connection to something greater than themselves?
About the Author
DONITA K. PAUL teaches spelling, creative writing, and first-grade part-time in a home school supplementary academy. Her desire to write inspirational romance came about several years ago when her daughter wanted to read "grown-up" books about love. She decided to write something romantic that wouldn't "pollute her heart, mind, and soul." Her daughter is now living her own Christian romance, leaving Kate with her mom, son, two dogs, and dust bunnies in a Colorado Springs household recovering from wedding shock.
Praise For Dragons of the Watch…
Praise for Donita K. Paul's DragonKeeper Chronicles and Chiril Chronicles

"The writing is crisp and the setting imaginative. This series will speak to all ages of Christian readers."
—Publisher's Weekly

"Donita K. Paul never fails to satisfy the imagination and delight the soul.… This is fantasy that truly illuminates reality."
—JIM DENNEY, author of the Timebenders Series

"Donita K. Paul's vivid imagery and startling plot twists will delight fans."
—KACY BARNETT-GRAMCKOW, author of the Genesis Trilogy

"I wouldn't expect anything less from Donita K. Paul, as she always gives us a delightful read: intriguing, challenging, and full of blessing."
—KATHRYNMACKEL, author of Vanished

"Donita K. Paul possesses a unique talent for instilling deep wisdom and spiritual truth in a story that is engrossing and satisfying.… She is one of my favorite authors."
—HANNAH ALEXANDER, author of Silent Pledge

"Donita K. Paul's inventiveness never ceases to amaze. Fresh ideas for new races of people and unusual creatures keep flowing from her gifted pen."
—JILL ELIZABETH NELSON, author of the To Catch a Thief Series

"Shut your eyes, hold your breath, and plunge into the unshackled imagination of Donita K. Paul."
—LINDA WICHMAN, author of Legend of the Emerald Rose