As Silver Refined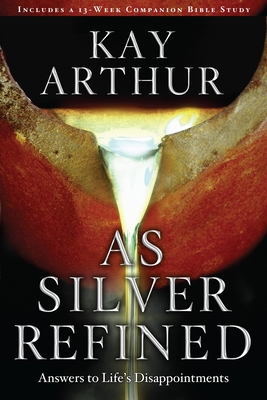 As Silver Refined
Answers to Life's Disappointments
Waterbrook Press, Paperback, 9781400073481, 356pp.
Publication Date: July 19, 2011
* Individual store prices may vary.
Buy at Local Store
Enter your zip code below to purchase from an indie close to you.
or
Buy Here
Description
What Can You Do When Life Doesn t Turn Out Like You Planned?
How do you respond when your husband or wife tramples your emotions? When your boss fires you unexpectedly? When you lose your life's savings? When the child you ve loved and prayed for turns his back on you and your values?
When disappointments like these smash their way into your life, you may want to scream, How could God let this happen?
But what if God didn t just let it happen ? What if the things you call "disappointments" are really "His appointments" events He is using to make you more like Christ? What if your circumstances are actually the flames of His grace, intended to melt and burn away the undesirable elements in your life, leaving you pure and radiant like refined silver?
You can be defeated by life's unavoidable disappointments, or you can become stronger because of them.
Life's disappointments can send you on a dangerous downward spiral into discouragement, depression, or even despair. But in this eye-opening book, Kay Arthur guides you to biblical truths that will help you break that cycle and instead embrace disappointment as the cleansing fire God uses to make you as silver refined a reflection of His goodness.
Now includes a 16 week Bible study
About the Author
Kay Arthur is a four-time Gold Medallion award-winning author, member of NRB Hall of Fame, and beloved international Bible teacher. She and her husband, Jack, cofounded Precept Ministries International to teach people how to discover truth through inductive study. Precept provides teaching and training through study books, TV and radio programs, the Internet, and conferences in over 180 countries and 70 languages.