North! or Be Eaten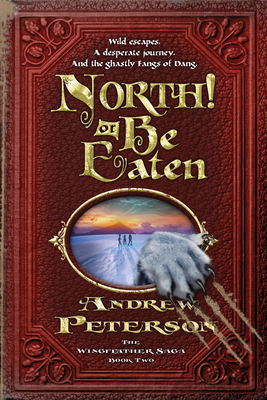 North! or Be Eaten
Wild Escapes, a Desperate Journey, and the Ghastly Fangs of Dang.
Waterbrook Press, Paperback, 9781400073870, 331pp.
Publication Date: August 18, 2009
* Individual store prices may vary.
Buy at Local Store
Enter your zip code below to purchase from an indie close to you.
or
Buy Here
Description
Janner, Tink, and Leeli Igiby thought they were normal children with normal lives and a normal past. But now they know they re really the Lost Jewels of Anniera, heirs to a legendary kingdom across the sea, and suddenly everyone wants to kill them.
In order to survive, the Igibys must flee to the safety of the Ice Prairies, where the lizardlike Fangs of Dang cannot follow. First, however, they have to escape the monsters of Glipwood Forest,1 the thieving Stranders of the East Bend,2 and the dreaded Fork Factory.3
But even more dangerous are the jealousies and bitterness that threaten to tear them apart, and Janner and his siblings must learn the hard way that the love of a family is more important than anything else.
1. All possessing very sharp teeth.
2. Murderous scoundrels, the lot.
3. Woe
Praise For North! or Be Eaten…
Praise for
North! Or Be Eaten

"Peterson deserves every literary prize for this fine book. It is obvious that his musical talents have been put to good use as his use of words, plot and narrative read like a well scored film script. A very fine book, by a very fine writer and future talent. Amazing - thrilling and well worth reading again and again."
–G. P. Taylor, New York Times best-selling author of Shadowmancer and The Dopple Ganger Chronicles

"Toothy cows are very dangerous. Andrew Peterson convinced me and shivers run down my spine at the very thought of meeting a toothy cow face to face. The author spills characters like Podo and Nurgabog onto the page, then weaves a tale of danger that holds the reader captive. Believe me, you will relish being held captive by this master storyteller. But be sure you don't get caught by the Stranders. Those people just ain't civilized."
–Donita K. Paul, author of The Vanishing Sculptor

"In a genre overrun by the gory and the grim, Peterson's bite-sized chapters taste more like a stew of Gorey (Edward) and Grimm (the Brothers). North! Or Be Eaten is a welcome feast of levity--and clearly a labor of love. Andrew Peterson has awakened my inner eight-year-old, and that is a very good thing."
–Jeffrey Overstreet, author of Auralia's Colors and Cyndere's Midnight

"An immensely clever tale from a wonderful storyteller - filled with great values and even greater adventure!"
–Phil Vischer, creator of VeggieTales

"Thrills, chills, spine-tingling mystery, and lots of smiles. It's not easy to combine heart-pounding danger with gut-busting laughs and make it work, but Peterson pulls it off. For readers who want nonstop action infused with powerful, life-changing themes, North! Or Be Eaten is a must-read."
–Wayne Thomas Batson, best-selling author of The Door Within Trilogy, Isle of Swords and Isle of Fire

"Andrew Peterson is a gifted storyteller, scene painter and wordsmith who takes you on a rollicking white-water ride of adventure. Readers of all ages are sure to find North! Or Be Eaten worthy of a big mug filled with a favorite beverage and a cozy nook near a crackling fire for hours on end. Here there be tales within yarns within stories. Listen, reader, bend your ear, but keep an eye peeled lest the dreaded Fangs of Dang be near!"
–R. K. Mortenson, author of Landon Snow and The Auctor's Riddle