Living in Love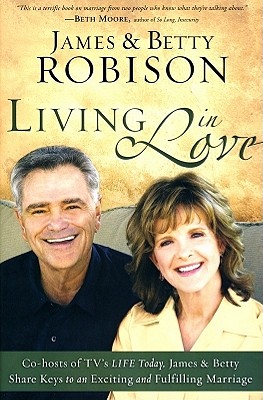 Living in Love
Co-Hosts of TV's Life Today, James and Betty Share Keys to an Exciting and Fulfilling Marriage
Waterbrook Press, Hardcover, 9781400074587, 240pp.
Publication Date: September 14, 2010
* Individual store prices may vary.
Buy at Local Store
Enter your zip code below to purchase from an indie close to you.
or
Not Currently Available for Direct Purchase
Description
More in Love Today Than on Your Wedding Day? It's Possible
Every marriage whether it's good, bad, or a mix of both can be better. But what does it take to make the sparks fly in a marriage of five months or fifty years?
James and Betty Robison, co-hosts of the "LIFE Today" television program, have shared many good times and tough times in their almost 50 years as a couple. What are the secrets that cause them to say we are more in love now than ever before ?
In this book, which brims over with down-home wisdom, James and Betty reveal how a committed, growing, lifelong relationship is built and sustained. They don t pretend to be experts, but they have found in their real-world marriage the priceless treasure of a deepening love.
In a dialogue format, which highlights the candor, fun, and respect that typify their relationship, James and Betty offer no-nonsense advice on marital issues like expectations, trust, past baggage, money, conflict resolution, sex, parenting, communication, and more. Above all they emphasize that with God at the center of marriage, all good things are possible. No matter how serious the challenges even in the aftermath of heartbreak and betrayal, any couple can experience the fulfillment of living in love.
Includes questions for reflection and discussion.
About the Author
James Robinson is founder, Fort Worth, Texas-based LIFE Outreach Internat ional, an evangelistic and humanitarian organization that seeks to bring people to a saving knowledge of Jesus Christ and engages in crisis relief throughout the world. His Life Today television program is carried by three Christian networks and more than one hundred stations, with a daily potential audience of 55 million homes throughout the United States and Canada.James and his wife Betty have three children: Rhonda, Randy, and Robin.

Robert Morris is the founding senior pastor of Gateway Church, a multi-campus, evangelistic, Spirit-empowered church in the Dallas/Fort Worth Metroplex that has more than 24,000 active members. He is featured on the weekly television program "The Blessed Life", which broadcasts to approximately 90 million homes in the United States and more than 200 countries around the world. He is the bestselling author of ten books, including "The Blessed Life", "From Dream to Destiny", "The Power of Your Words", and "The God I Never Knew". Robert and his wife, Debbie, have been married 31 years and have three children and two grandchildren.
Praise For Living in Love…
Praise for Living in Love

"This is a terrific book on marriage from two people who know what they're talking about. They have earned the right to speak, and we are blessed indeed to listen."
     —BETHMOORE, author of So Long, Insecurity: You've Been a Bad Friend to Us

"James and Betty must know something. Spend any moments near them, and you quickly detect, and enjoy, an uncommon affection. I pray that we learn from their experience."
     —MAX LUCADO, pastor and best-selling author

"It has been said a good marriage is a blessing to the world. I do believe those who read their book will find this to be true in James and Betty's own union. We can all learn from their experience, and we thank them for that."
     —ROBERT DUVALL, actor

"We appreciate the way James and Betty Robison relate to each other with such respect and dignity. They are the same people on- and off-camera, and that is the test of a quality marriage. We know you will love Living in Love, because here they reveal the secrets behind their beautiful story and great marriage."
      —JOHN and STASI ELDREDGE, authors of Captivating: Unveiling the Mystery of a Woman's Soul and Love and War: Finding the Marriage You've Dreamed Of

"I've known James and Betty Robison for years, and they're the real deal. Their book is more than the real deal. They were so vulnerable in sharing their own struggles. Anyone who has ever asked themselves "Is this marriage working? Is it worth it?" will embrace this book and will embrace James and Betty as they share from the heart God's plan for marriage. What a great job they did on this book!"
     —DR. KEVIN LEMAN, New York Times best-selling author of Have a New Kid by Friday, Have a New Husband by Friday, and Have a New You by Friday

"James and Betty are one of the couples I love and admire most in this world. I have had the joy of sharing many meals and deep conversations with them and always come away richer and closer to Christ. In a world where relationships are crumbling at an unprecedented rate, James and Betty share what they have lived and continue to live. This wisdom is priceless!"
     —SHEILA WALSH, author and Women of Faith speaker

"James and Betty Robison do a fine job teaching together and making their book on the challenges of marriage come alive. The honesty, the transparency, and the practical biblical insights and application make this book easy to understand. It will make a great gift for anyone in a marriage or soon to be wed."
     —DR. CHARLES STANLEY, senior pastor, First Baptist Atlanta, and founder and president, In Touch Ministries

"In Living in Love, James and Betty Robison share their fifty-year endearing love story of hope, commitment, endurance, perseverance, and passion. Their marriage is a real-life example of what living out a covenant marriage looks like. Their testimony challenges us to the core, continually reminding us to press on in our marriage and never give up."
      —JEFF and CHERYL SCRUGGS, authors of I Do Again: How We Found a Second Chance at Our Marriage—and You Can Too

"I cannot think of anyone more equipped to write a book on marriage than James and Betty Robison. Along with my own parents' marriage, theirs has made an indelible imprint on my life. As we've shared dinner and conversations,
I've been enthralled to watch their adoring smiles, caring touches, and intimate exchanges. Indeed, this is a marriage to behold. I'm so glad they've chosen to give insight that will help us all build solid marriages of our own. Read and be blessed."
     —PRISCILLA SHIRER, author and Bible teacher

"James and Betty are an authentic couple who have a tremendous heart for God and a great love for each other. My wife, Katie, and I can tell by being around them how much they enjoy each other's company. The personal examples in Living in Love illustrate that they are a real couple dealing with real challenges. They let God's light shine through their marriage and demonstrate that, with God, couples can work through anything."
      —JOSH HAMILTON, all-star outfielder of the Texas Rangers

"James and Betty Robison have provided every married couple with a solid tool to develop and maintain a marriage that will stand the test of time, trouble, trials, and tribulations. Living in Love is a must-read for couples who believe that God knew what He was doing when He created marriage and who want to see that purpose worked out in their own relationship." 
     —TONY and LOIS EVANS, Oak Cliff Bible Fellowship, Dallas

"As their pastor, I know that James and Betty Robison are authentic, sincere, and humble servants of the Lord, and they are most definitely and truly living in love. This book contains the keys you need for an exciting and fulfilling marriage. It has been a tremendous blessing to my wife, Debbie, and me, and I wholeheartedly recommend Living in Love for every couple."
     —ROBERT MORRIS, senior pastor, Gateway Church, Southlake, Texas

"I've seen the marriage of James and Betty Robison up close and personal for over thirty years. Living in Love is from their heart. They have a happy partnership, which has led to a worldwide ministry, yet they have kept their marriage centered on Christ. They have struggled with many of the same issues you and I have confronted, and in this book they share what has worked for them. I highly recommend Living in Love."
     —RUTH GRAHAM, author of Fear Not Tomorrow, God Is Already There

"This is not a book of just suggestions that might work. It is two lives joined together in love by practicing principles that will work—for any couple! Readers will be inspired by James and Betty's journey."
     —DR. GARY SMALLEY, author of From Anger to Intimacy

"I have known James and Betty Robison for years, and I so enjoy being around them. That's because they always treat each other with love, respect, compassion, and good humor. Their book Living in Love tells us how to do the same. They didn't come by their great marriage automatically; they worked at it. And they learned valuable information along the way that they want to impart to others. Their personal story will touch you, and their insight will ignite you. This wellwritten book should be read by every married couple and also by anyone who hopes to be married in the future. I couldn't put it down."
      —STORMIE OMARTIAN, author of The Power of a Praying Wife and The Power of a Praying Husband