Driving on the Rim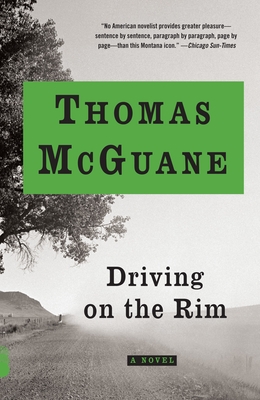 Driving on the Rim
Vintage Books, Paperback, 9781400075225, 305pp.
Publication Date: October 4, 2011
* Individual store prices may vary.
Buy at Local Store
Enter your zip code below to purchase from an indie close to you.
or
Not Currently Available for Direct Purchase
Description
A "Washington Post "Best Novel of the Year
Berl Pickett is a housepainter turned doctor living in the small town of Livingston, Montana. The son of Pentecostal rug-shampooers, Pickett has never been the social toast of the town, but when he is accused of negligent homicide in the death of his former lover, he finds himself ostracized by his colleagues and realizes just how small his little village truly is. But fortunately for Berl, the very thing that sets him apart his inability to follow the pack proves to be his saving grace. With this inglorious hero, McGuane has created an unforgettable voyager on a darkly funny journey to salvation.
About the Author
Thomas McGuane lives on a ranch in McLeod, Montana. He is the author of nine novels, three works of nonfiction, and two collections of stories.
Praise For Driving on the Rim…
"No American novelist provides greater pleasure—sentence by sentence, paragraph by paragraph, page by page—than this Montana icon." —Chicago Sun-Times
 
"Excellent. . . . Expertly quilting together the sacred and the profane, the comic and the tragic. . .  Driving on the Rim should be read aloud and savored." —The Boston Globe 
 
"Irrepressibly comic and optimistic, even when it verges on the tragic, [Driving on the Rim] is full of oddballs and free spirits." —The New York Times Book Review
 
"Triumphant. . . . McGuane's funniest novel, absurdist in an inimitably American way. . . . One of this country's greatest comic novelists, right up there with Mark Twain." —Men's Journal

"Cunningly, masterfully complex. . . . It's not easy to shift from rambling comedy to darker musings on guilt, mortality and the prospect of guiding oneself through a meaningless universe. But McGuane does it brilliantly." —Richmond Times-Dispatch
 
"Driving on the Rim contains coincidence, danger, dark humor—with fishing and booze as anodynes. . . . [McGuane] retains his capacity to surprise, to craft a sentence that slices, to create out on the old frontier a fresh iteration of an old story. And to show with mountain clarity the intricate tuition required to educate the heart." —The Plain Dealer
 
"Berl Pickett . . . is a splendid addition to the gallery of semi-cracked eccentrics who populate the literature of the American West. . . . [McGuane] uncork[s] sentences full of cowboy poetry and beguiling rhythms." —The Washington Post Book World
 
"McGuane has long been forming unforgettable people out of the dust and dirt of the country he knows best—characters that just get fuller and richer and less predictable." —Los Angeles Times  
 
"Thomas McGuane has delivered one of the finest books of his career." —New West
 
"[McGuane] is at his very best when writing about the Montana landscape and fishing; that's where he becomes a poet in the grand tradition of Roderick Haig-Brown and Norman Maclean. . . . A mixture of picaresque narrative and a deep love for the environment." —The Seattle Times
 
"Literary canonization might be imminent. . . . McGuane's novels are comic, complex and infused with . . . depth." —St. Petersburg Times
 
"There are riches here, especially sentence by crackling sentence, and McGuane is as good as ever on the redeeming aspects of a troubled country." —The New York Times
 
"Few writers produce a higher ration of stunners per page." —The Salt Lake Tribune
 
"McGuane can spin mood on a dime, writing humorously in half the sentence, tragically in the next half. . . . Seriousness . . . never dominates Mr. McGuane's bright, intelligent style. He is remarkably quotable, his characterizations spot-on." —Pittsburgh Post-Gazette
 
"With so many of McGuane's books in the past quarter-century set in Montana, his canon almost constitutes a bestiary, a field guide to the New West, Y-chromosome edition. . . . One of our finest prose stylists. Few writers conjure landscape as well as McGuane. . . . Clean and crackling." —The Denver Post
 
"Sterling, serious writing." —Pittsburgh Tribune-Review
 
"Weaves comedy and tragedy into a compelling tale." —The Sacramento Bee
 
"Driving on the Rim does more than deliver a story. It demonstrates McGuane's remarkable ability to create and then untangle multiple plotlines, bringing us, once again, to wonder at his ability to create uniquely hilarious characters that remind us so much of ourselves." —High Country News
 
"Bawdy, humorous, and sometimes moving and tragic. . . . Driving on the Rim is full of lovely little moments . . . shrewd observations, funny one-liners, and memorable quotes that beg to be repeated." —Bookreporter.com
 
"Darkly comic with a narrative that is both sarcastic and sassy. . . . This is an exceptional piece of writing." —The Tucson Citizen