The Rules of Engagement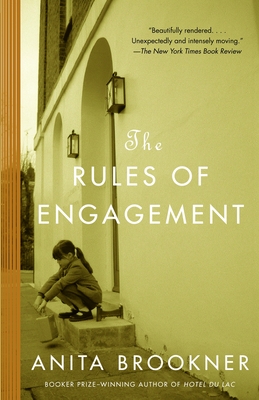 The Rules of Engagement
Vintage Books, Paperback, 9781400075300, 273pp.
Publication Date: February 8, 2005
* Individual store prices may vary.
Buy Now
or
Shop Local
Enter your zip code below to purchase from an indie close to you.
Description
Elizabeth and Betsy had been school friends in 1950s London. Elizabeth, prudent and introspective, values social propriety. Betsy, raised by a spinster aunt, is open, trusting, and desperate for affection. After growing up and going their separate ways, the two women reconnect later in life. Elizabeth has married kind but tedious Digby, while Betsy is still searching for love and belonging. In this deeply perceptive story, Anita Brookner brilliantly charts the resilience of a friendship tested by alienation and by jealousy over a man who seems to offer the promise of escape.
About the Author
Anita Brookner est nee a Londres en 1928 et, excepte quelques annees passees a Paris, elle y a toujours vecu depuis. Historienne d art et ecrivain, elle est l auteur de vingt-quatre romans, dont "Hotel du lac", qui lui a valu d etre recompensee par le Booker Prize en 1984. Presque tous ses ouvrages ont ete publies en francais. Chez Fayard ont paru: "Les Regles du consentement" (2004) et "Loin de soi" (2006).
Praise For The Rules of Engagement…
"Beautifully rendered. . . . Unexpectedly and intensely moving." –The New York Times Book Review

"Few novelists can stand with Anita Brookner when it comes to the interior revelations of the human heart. . . . A single sentence, a certain expression, a look or a gesture convey worlds of meaning. . . . Every page has a felicity of wording that makes you want to reach for a pen, to underline passages that you don't want to forget." –The Seattle Times

"Beautifully written. . . . The Rules of Engagement demonstrates the triumph of a keenly introspective mind." –The Atlantic Monthly

"The Rules of Engagement is vintage Brookner in the grace and ease of its language. The Booker Prize-winning author is a gifted storyteller, weaving in twists and turns that make the book hard to abandon." –Chicago Tribune

"Elizabeth Wetherall is clearly recognizable as one of Brookner's exquisite gem solitaries. . . . To read Brookner is to come into contact with a first-rate mind. . . . [She] is relentlessly existential. But also comic." –Miami Herald

"The story is told . . . with such elegance and polish that its surface–satiny, flawless and smooth as an onion, as always–holds a fascination equal to its content." –The Washington Post Book World

"One of the great strengths of Brookner's fiction: her ability to lay bare in limpid, measured, luminous prose her characters' least admirable, most desperate motivations." –Los Angeles Times Book Review

"[Brookner renders] her characters with intense fidelity. Few novelists have such a subtle, portrait artist's sense of their characters." –San Francisco Chronicle

"Brookner is a master of the art of the middle distance and as graceful as a matador when she uses the bright cape of her elegant Jamesian sentences to keep intimacy at bay." –The Boston Globe