The Whole World Over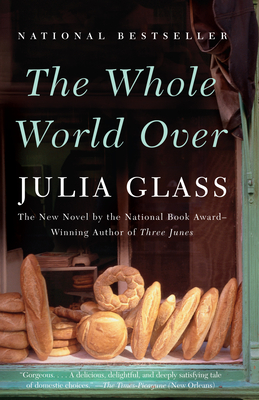 The Whole World Over
Anchor Books, Paperback, 9781400075768, 562pp.
Publication Date: June 12, 2007
* Individual store prices may vary.
Buy Now
or
Shop Local
Enter your zip code below to purchase from an indie close to you.
Description
Julia Glass, author of the award-winning novel "Three Junes," tells a vivid tale of longing and loss, revealing the subtle mechanisms behind our most important connections to others. In The Whole World Over," " she pays tribute once again to the extraordinary complexities of love.Greenie Duquette lavishes most of her passionate energy on her Greenwich Village bakery and her young son. Her husband, Alan, seems to have fallen into a midlife depression, while Walter, her closest professional ally, is nursing a broken heart. At Walter's restaurant, the visiting governor of New Mexico tastes Greenie's coconut cake and decides to woo her away to be his chef. For reasons both ambitious and desperate, she accepts-heading west without her husband. This impulsive decision, along with events beyond Greenie's control, will change the course of several lives around her.
About the Author
Julia Glass was awarded the 2002 National Book Award for fiction, the 2000 New York Foundation for the Arts Fellowship in fiction, and has won several prizes for her short stories, including three Nelson Algren Awards and the Tobias Wolff Award. "Collies," the first part of "Three Junes," won the 1999 Pirate's Alley Faulkner Society Medal for Best Novella. She lives with her family in New York City, where she works as a freelance journalist and editor.
Praise For The Whole World Over…
"Gorgeous. . . . delicious, delightful, and deeply satisfying." —The Times-Picayune "Her second novel is even finer than her first. . . . Glass offers unobtrusive yet resounding insights into the paradoxes of families, the necessary solace of friendship and the volatility of intimate relationships gay and straight. Her social commentary is at once mischievous and trenchant." —Chicago Tribune"Enormously appealing and inventive . . . sure to solidify Julia Glass' reputation as one of America's most talented younger novelists." —The Atlanta Journal-Constitution"A generous, tentacled, ensemble novel. . . . [Glass] is deft at the quick portraiture and character shorthand that this novelistic approach requires." —Los Angeles Times Book Review"Glass pins down these lives with verve, precision, and depth.... A wise book, with breadth as well as depth." —The Oregonian