Cuba in Mind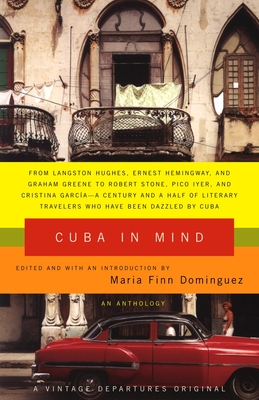 Cuba in Mind
An Anthology
Vintage, Paperback, 9781400076130, 304pp.
Publication Date: June 8, 2004
* Individual store prices may vary.
Buy Now
or
Shop Local
Enter your zip code below to purchase from an indie close to you.
Description
Since Columbus arrived in 1492 and called Cuba the most beautiful country that human eyes have ever seen, few places on earth have evoked such passion. The thirty-one writers in Cuba in Mind offer ample proof of the fascinations that have lured generations of travelers.
In this richly varied anthology of poetry, fiction, and nonfiction, we hear from such famous visitors as Anthony Trollope, Langston Hughes, Ernest Hemingway, and Graham Greene. Poets and journalists offer their responses, from Allen Ginsberg and Jayne Cortez to Alma Guillermoprieto and Robert Stone; and novelists weigh in with such fictional portrayals as Elmore Leonard's Cuba Libre and Pico Iyer s" "Cuba and the Night." "Cuban exiles, immigrants, and their offspring provide their unique perspective, from Cristina Garcia's essay Simple Life to excerpts from Oscar Hijuelos's novel The Mambo Kings Play Songs of Love and from Carlos Eire's memoir Waiting for Snow in Havana." "Embracing salsa and santeria, politics and baseball, the island's sparkling beaches and the teeming Havana streets, Cuba in Mind captures the vibrancy, the contradictions, the heat and the humor of Cuba as shown by some of the best writers in the English language.
Contributors:
Thomas Barbour Jose Barreiro Ruth Behar William Cullen Bryant Jayne Cortez Stephen Crane Andrei Codrescu Eleanor Early Carlos Eire Kimi Eisele Cristina Garcia Allen Ginsberg Graham Greene Alma Guillermoprieto Elizabeth Hanly Ernest Hemingway Consuelo Hermer Oscar Hijuelos Langston Hughes Pico Iyer Elmore Leonard Rosa Lowinger Marjorie May Tom Miller Holly Morris Ricardo Pau-Llosa Robert Stone Jim Shepard Isadora Tattlin Anthony Trollope Walter D. Wilcox.
About the Author
Maria Finn is the editor of the anthology "Cuba in Mind "(Vintage, 2004) and author of a memoir about falling in love and marrying her cab driver in Havana, Cuba. She has written for "Audubon, Saveur, Metropolis, The New York Times, "and the "Los Angeles Times," among many other publications. She has an MFA in Creative Writing from Sarah Lawrence College and has published literary work in magazines such as "Gastronomica, The Chicago Review, New Letters, "and "Exquisite Corpse. "She has lived and worked in Alaska, Guatemala, and Spain, and traveled extensively in Latin America.