They Knew They Were Right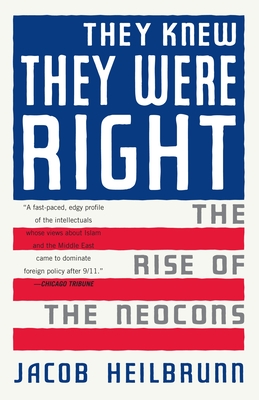 They Knew They Were Right
The Rise of the Neocons
Anchor Books, Paperback, 9781400076208, 320pp.
Publication Date: January 6, 2009
* Individual store prices may vary.
Buy Now
or
Shop Local
Enter your zip code below to purchase from an indie close to you.
Description
From its origins in 1930s Marxism to its unprecedented influence on George W. Bush's administration, neoconservatism has become one of the most powerful, reviled, and misunderstood intellectual movements in American history. But who are the neocons, and how did this obscure group of government officials, pundits, and think-tank denizens rise to revolutionize American foreign policy?Political journalist Jacob Heilbrunn uses his intimate knowledge of the movement and its members to write the definitive history of the neoconservatives. He sets their ideas in the larger context of the decades-long battle between liberals and conservatives, first over communism, and now over the war on terrorism. And he explains why, in spite of their misguided policy on Iraq, they will remain a permanent force in American politics.
About the Author
Jacob Heilbrunn writes regularly for the "New York Times," "Washington Monthly," and "National Interest," He is a former member of the "Los Angeles Times" editorial board and was a senior editor at the "New Republic," He lives in Washington, DC.
Praise For They Knew They Were Right…
"A fast-paced, edgy profile of the intellectuals whose views about Islam and the Middle East came to dominate foreign policy after 9/11."
—Chicago Tribune

"Persuasive, wide-ranging. . . . Heilbrunn takes a long, nuanced measure of the neocon policy revolution."
—The New York Observer

"Excellent. . . . Heilbrunn adroitly surveys the movement's history from the Trotskyist alcoves of the City College cafeteria up to the present day."
—The New York Review of Books

"Thorough . . . fair. . . . They Knew They Were Right will fit nicely on the rapidly expanding shelf explaining Iraq."
—The Washington Post