Grand Avenues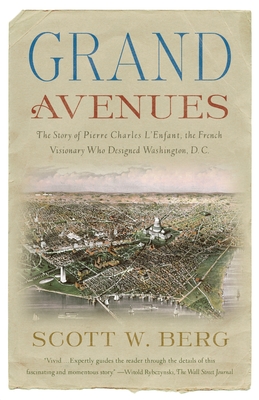 Grand Avenues
The Story of Pierre Charles L'Enfant, the French Visionary Who Designed Washington, D.C.
Vintage Books USA, Paperback, 9781400076222, 336pp.
Publication Date: February 12, 2008
* Individual store prices may vary.
Buy at Local Store
Enter your zip code below to purchase from an indie close to you.
or
Not Currently Available for Direct Purchase
Description
In 1791, shortly after the United States won its independence, George Washington personally asked Pierre Charles L'Enfant--a young French artisan turned American revolutionary soldier who gained many friends among the Founding Fathers--to design the new nation's capital. L'Enfant approached this task with unparalleled vigor and passion; however, his imperious and unyielding nature also made him many powerful enemies. After eleven months, Washington reluctantly dismissed L'Enfant from the project. Subsequently, the plan for the city was published under another name, and L'Enfant died long before it was rightfully attributed to him. Filled with incredible characters and passionate human drama, Scott W. Berg's deft narrative account of this little-explored story in American history is a tribute to the genius of Pierre Charles L'Enfant and the enduring city that is his legacy.
About the Author
Scott W. Berg holds a BA in Architecture from the University of Minnesota, an MA from Miami University and an MFA in Creative Writing from George Mason University where he is now teaching non-fiction writing and literature. Since 1998, Berg has published over 60 pieces in the Washington Post on various subjects, many of them historical, including a lengthy feature story about L'Enfant out of which GRAND AVENUES grew.
Praise For Grand Avenues…
"A lively and literate view of Washington's early history, with liberal dashes of intrigue for good measure." –Kirkus

"L'Enfant's idiosyncratic personality interfered with his complete success yet only serves to make this biography a fascinating read." –Booklist

"A welcome narrative… Berg performs sterling service in excavating this little-known story from the archives."—Publishers Weekly, starred review

"The reader never will be able to walk the streets of Washington again without envisioning the haughty genius of Major L'Enfant on horseback, oblivious to the rain and cold, looking down from Jenkins Hill, and with a vision of pre-revolutionary Paris in his mind's eye, seeing one of the world's great capital cities spread out before him." –Buffalo News (New York)

"Scott Berg has created a readable portrait of Pierre Charles L'Enfant that shows the artist in full, with both his great gifts and his Icarus-like ambition. It is fascinating to speculate how America's federal government might have emerged differently over the centuries if it had been seated in Thomas Jefferson's simple 'federal town' rather than in L'Enfant's grandiose city. The character of the capital city today is inseparable from its designer's personality and vision." –David A. Price, author of Love and Hate in Jamestown: John Smith, Pocahontas, and the Start of a New Nation