The Lemon Table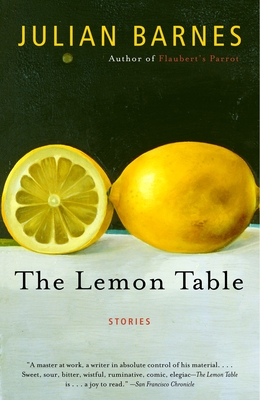 The Lemon Table
Vintage, Paperback, 9781400076505, 256pp.
Publication Date: April 5, 2005
* Individual store prices may vary.
Shop Local
Enter your zip code below to find indies closest to you.
Description
In his widely acclaimed new collection of stories, Julian Barnes addresses what is perhaps the most poignant aspect of the human condition: growing old.
The characters in The Lemon Table are facing the ends of their lives some with bitter regret, others with resignation, and others still with defiant rage. Their circumstances are just as varied as their responses. In 19th-century Sweden, three brief conversations provide the basis for a lifetime of longing. In today's England, a retired army major heads into the city for his regimental dinner and his annual appointment with a professional lady named Babs. Somewhere nearby, a devoted wife calms (or perhaps torments) her ailing husband by reading him recipes.
In stories brimming with life and our desire to hang on to it one way or another, Barnes proves himself by turns wise, funny, clever, and profound a writer of astonishing powers of empathy and invention.
About the Author
Julian Barnes is the author of nine novels, including Metroland, Flaubert's Parrot, A History of the World in 10 1/2 Chapters, England, England and Arthur and George, and two collections of short stories, Cross Channel and The Lemon Table.
Praise For The Lemon Table…
"A master at work, a writer in absolute control of his material. . . . Sweet, sour, bitter, wistful, ruminative, comic, elegiac–The Lemon Table is . . . a joy to read." –San Francisco Chronicle"Beautifully wrought elegies for lost youth, lost promises and lost loves [that] attest to Mr. Barnes's growing depth as a writer, his newly embraced ability to create stories that are as affecting as they are cunning, as emotionally resonant as they are prettily fashioned." –New York Times"Filled with emotional resonance and hard-won wisdom, The Lemon Table is a virtuoso performance of remarkable clarity and insight." –Los Angeles Times Book Review"Mr. Barnes handles his somber material with compassion, verve, shrewd intelligence and a sharp sense of irony. . . . Reading [these stories] is an experience more enlivening than depressing, [even as] mortality itself is ever present and truthfully confronted. –The Wall Street Journal"Barnes is a top-flight precisionist, [with] the steady, pleasing wit of English comic realism, in which sheer intelligence and acute observation carry the whole production, line after line, page after page . . . The Lemon Table, in ways both modest and grand, helps sustain a reader's faith in literature as the truest form of assisted living." –New York Times Book Review
"These gracefully constructed stories are subtle, erudite, and wise; they elevate us because there are few such generous observers of humanity. In a word: The Lemon Table is Barnes at his profound, dexterous best." –Esquire"[Julian Barnes is] one of the most gifted contemporary shapers of prose, possessed of a remarkable limberness of form and voice, and an unconstrained literary imagination." –The New Republic
"The stories in The Lemon Table are quite old-fashioned–in the best sense of the word. They remind one of the deceptive simplicity of the stories of Chekhov or that prodigy of the absurd, Nikolai Gogol. With their underlying classicism, their commitment to truth and beauty, Barnes's stories also harken back to a pre-existential time in which hope was still, in a tragic sort of way, possible." –Boston Globe
"Barnes can telescope the whole world through a single lens . . . Each story unfolds with masterly speed, diving quickly to the heart of the matter." –Louisville Courier-Journal"Remarkable meditations on loneliness and aging." –St. Petersburg Times
"Julian Barnes has many interests [and] a variety of talents that enable him to manage them all . . . The Lemon Table leaves one in no doubt as to Barnes's virtuosity."–The Guardian
"[A] brave, well-crafted book . . . Barnes describes the realities of aging with precision and a knack for matching narrative device to psychological reality." –People

"'Were you as young as you felt, or as old as you looked?' This is the conundrum at the heart of The Lemon Table, [with] assorted pensioners, catty widows, randy old army majors, and noise-sensitive concertgoers forcefully exercising their right not to go gently into that good night." –Vogue