Stalin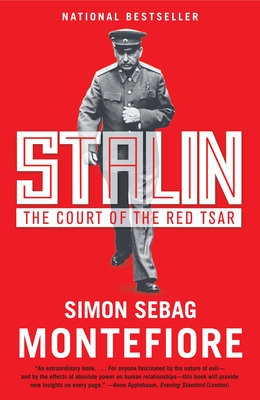 Stalin
The Court of the Red Tsar
Vintage Books USA, Paperback, 9781400076789, 785pp.
Publication Date: September 13, 2005
* Individual store prices may vary.
Buy Now
or
Shop Local
Enter your zip code below to purchase from an indie close to you.
Description
This widely acclaimed biography provides a vivid and riveting account of Stalin and his courtiers—killers, fanatics, women, and children—during the terrifying decades of his supreme power. In a seamless meshing of exhaustive research and narrative ?lan, Simon Sebag Montefiore gives us the everyday details of a monstrous life.We see Stalin playing his deadly game of power and paranoia at debauched dinners at Black Sea villas and in the apartments of the Kremlin. We witness first-hand how the dictator and his magnates carried out the Great Terror and the war against the Nazis, and how their families lived in this secret world of fear, betrayal, murder, and sexual degeneracy. Montefiore gives an unprecedented understanding of Stalin's dictatorship, and a Stalin as human and complicated as he is brutal.
About the Author
Simon Sebag Montefiore is an historian and author if the acclaimed Prince of Princes, the Life of Potemkin. After graduating in History from Cambridge University he traveled extensively throughout the former Soviet empire whilst writing two novels and many newspaper articles. His new book Stalin: The Court of the Red Tsar will be published in 2003.
Praise For Stalin…
"Terrific. . . . Scholarship as a kind of savage gossip. . . . Deeply researched, wonderfully readable." –Time "The first intimate portrait of a man who had more lives on his conscience than Hitler. . . . Disturbing and perplexing." –Richard Pipes, The New York Times Book Review"Superb. . . . No Western writer has got as close. . . . A dark and excellent book." –The New York Review of Books"A harrowing portrait of life in the dictator's inner circle. . . . [Stalin] emerges from this book as a contradictory, creepily flesh-and-blood human being." –The New York Times"Unprecedented in its intimacy and horrifying in its implications, not merely because it shows that the engineers of one of history's greatest holocausts were depraved . . . but also because they emerge in these pages as surprisingly normal." –The Washington Post Book World