Elsewhere, U.S.A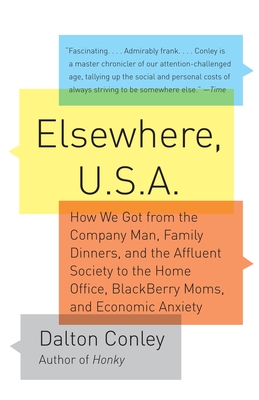 Elsewhere, U.S.A
How We Got from the Company Man, Family Dinners, and the Affluent Society to the Home Office, Blackberry Moms, and Eco
Vintage Books USA, Paperback, 9781400076796, 221pp.
Publication Date: April 6, 2010
* Individual store prices may vary.
Buy at Local Store
Enter your zip code below to purchase from an indie close to you.
or
Buy Here
Description
Over the past three decades, our daily lives have changed slowly but dramatically. Boundaries between leisure and work, public space and private space, and home and office have blurred and become permeable. In Elsewhere, U.S.A., acclaimed sociologist Dalton Conley connects our day-to-day experiences with occasionally overlooked sociological changes, from women's increasing participation in the labor force to rising economic inequality among successful professionals. In doing so, he provides us with an X-ray view of our new social reality.
About the Author
Dalton Conley is Director of the Center for Advanced Social Science Research and Professor of Sociology and Public Policy at NYU; he is also Research Associate at the National Bureau of Economic Research and Adjunct Professor of Community Medicine at Mt. Sinai School of Medicine.
Praise For Elsewhere, U.S.A…
"Fascinating. . . . Admirably frank. . . . Conley is a master chronicler of our attention-challenged age, tallying up the social and personal costs of always striving to be somewhere else."
—Time
 
"Conley brings a familiar analysis up-to-date and makes it engagingly fresh with sharp observations and lucid, concise prose."
—Wall Street Journal
 
"Lively. . . . Intriguing. . . . A compact guidebook to our nervous new world. . . . "Usefully summarizes all sorts of far-flung academic research while repurposing the latest pop-sociological idea entrepreneurship, from Chris Anderson's 'long tail' to Richard Florida's 'creative class.'"
—The New York Times Book Review
 
"A fresh, provocative, sometimes disturbing, mostly dispassionate take on why apparently successful knowledge workers are suffering from that early-industrial-era condition Karl Marx called alienation."
—BusinessWeek
 
"Ambitious. . . . [A] sharp, engagingly composed study of the multiple kinds of fragmentation that torment the American self in the post-everything information age. . . . Conley brings an astutely conditioned—and suitably jaundiced—eye to the task of tracking the permanently distracted self through its new placeless habitat."
—Tom Vanderbilt, BookForum
 
"Conley is a debunker. . . . [He] connects the dots in new ways and brings in research that may contradict what readers think they know."
—Forbes
 
"This brilliant new book makes sense of how changes in the ways people work are affecting the ways families work. Conley writes with the grace of a novelist and the insight of a rigorous scholar."
—Richard Sennett, author of The Craftsman
 
"Convincing. . . . Intelligent. . . . This book was written before the dawning of the neo-Depression now deepening around us, and may of its insights feel more ominous now."
—Seattle Times
 
"Compelling. . . . A measured mix of social science, first-person reporting and historical research."
—Newsday
 
"Put down your iPhones and BlackBerrys, dear friends, long enough to read this important book about America's new 'elsewhere society,' where round-the-clock connectivity and multitasking are reshaping the most basic patterns of work, family, and values. Your guide to this brave new world is Dalton Conley, one of America's most brilliant and perspective social commentators and scholars, and an excellent and entertaining writer as well. No other book compares in describing and explaining the texture of modern lives in a hypernetworked and hypermarketized world. Conley's insights might just help to rescue the 'priceless' from the credit card ads and restore it to work, family, friends, and identity, all of which are under siege in our elsewhere society."
—Jeffrey D. Sachs, author of The End of Poverty
 
"A sobering and fearlessly honest account of our lives, of your life. . . . A must-read."
—Sacramento Book Review
 
"Conley is spot-on in his analysis of our hyperconnected world. In these days of BlackBerry ubiquity, it's useful to have an experienced guide to help make sense of it all—and maybe convince us to unplug once in a while."
—St. Petersburg Times
 
"Scintillating. . . . Always compelling. . . . Conjure[s] useful talking points on some of the most salient social dynamics of our time."
—The Wichita Eagle
 
"Brilliant and, at times, chilling. . . . A sociological mirror, this book is equal parts cautionary tale, exercise in contemporary anthropology and a spiritual and emotional audit of the 21st century American."
—Publishers Weekly
 
"No one has written about how we live today more vividly, and more accurately, than Dalton Conley. Elsewhere, U.S.A. explains the multitude of changes–technological, economic, psychological, cultural–that have affected us in recent years, and he makes it possible to find out who we are now as Americans, and why."
—Richard Florida, author of The Rise of the Creative Class