Created in Darkness by Troubled Americans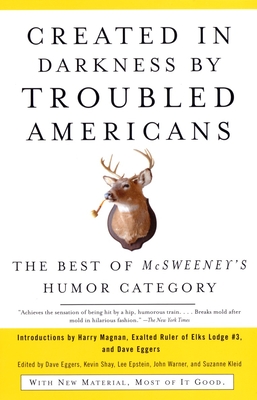 Created in Darkness by Troubled Americans
The Best of McSweeney's Humor Category
Vintage Books, Paperback, 9781400076857, 272pp.
Publication Date: June 14, 2005
* Individual store prices may vary.
Buy at Local Store
Enter your zip code below to purchase from an indie close to you.
or
Buy Here
Description
Now more than ever, Americans are troubled by questions. As sweaty modernity thrusts itself upon us, the veil of ignorance that cloaked our nation hangs in tatters, tattered tatters. Our "funny bones" are neither fun nor bony. Glum is the new giddy, and the old giddy wasn't too giddy to begin with.
What can be done to stop this relentless march of drabbery? Nothing. But perhaps this book can be used to dull the pain. Included herein:
The Ten Worst Films of All Time, as Reviewed by Ezra Pound over Italian Radio
Unused Audio Commentary by Howard Zinn and Noam Chomsky, Recorded Summer 2002, for "The Lord of the Rings: Fellowship of the Ring" DVD (Platinum Series Extended Edition), Part One.
How Important Moments in My Life Would Have Been Different If I Was Shot in the Stomach
My Beard, Reviewed
Circumstances under Which I Would Have Sex with Some of My Fellow Jurors
Words That Would Make Nice Names for Babies, If It Weren't for Their Unsuitable Meanings
As a Porn Movie Titler, I May Lack Promise
Ineffective Ways to Subdue a Jaguar
Eleven Lunch Meats I Have Invented
Four Things I Would Have Said to Sylvia Plath if I Had Been Her Boyfriend
And much, much more, including 20 brilliant new lists . . .
About the Author
Dave Eggers is the bestselling author of seven books, including "A Hologram for the King", a finalist for the National Book Award; "Zeitoun", winner of the American Book Award and Dayton Literary Peace Prize; and" What Is the What", which was a finalist for the National Book Critics" "Circle Award and won France s "Prix Medici". That book, about Valentino" "Achak Deng, a survivor of the civil war in Sudan, gave birth to the Valentino Achak Deng Foundation, which operates a secondary school in South Sudan run by Mr. Deng. Eggers is the founder and editor of McSweeney s, an independent publishing house based in San Francisco that produces a quarterly journal, a monthly magazine, "The Believer: ", a" "quarterly DVD of short films and documentaries, " Wholphin", and an" "oral history series, Voice of Witness. In 2002, with Ninive Calegari he cofounded 826 Valencia, a nonprofit writing and tutoring center for youth in the Mission District of San Francisco. Local communities have since opened sister 826 centers in Chicago, Los Angeles, New York, Ann Arbor, Seattle, Boston, and Washington, D.C. Eggers is also the founder of ScholarMatch, a program that matches donors with students needing funds for college tuition. A native of Chicago, Eggers now lives in Northern California with his wife and two children.""
Praise For Created in Darkness by Troubled Americans…
"Achieves the sensation of being hit by a hip, humorous train. . . . Breaks mold after mold in hilarious fashion." —The New York Times