Curious Minds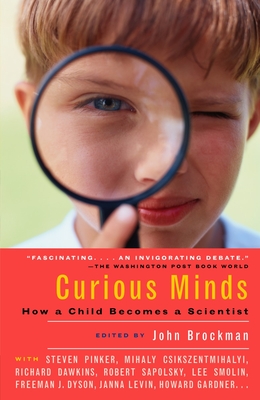 Curious Minds
How a Child Becomes a Scientist
Vintage Books USA, Paperback, 9781400076864, 236pp.
Publication Date: September 13, 2005
* Individual store prices may vary.
Buy at Local Store
Enter your zip code below to purchase from an indie close to you.
or
Buy Here
Description
What makes a child decide to become a scientist?
For Robert Sapolsky Stanford professor of biology it was an argument with a rabbi over a passage in the Bible.
Physicist Lee Smolin traces his inspiration to a volume of Einstein's work, picked up as a diversion from heartbreak.
Mihaly Csikszentmihalyi, a psychologist and the author of Flow, found his calling through Descartes.
Murray Gell-Mann, Nicholas Humphrey, Freeman Dyson . . . 27 scientists in all write about what it was that sent them on the path to their life's work. Illuminating memoir meets superb science writing in stories that invite us to consider what it is and what it isn t that sets the scientific mind apart.
About the Author
John Brockman, editor of many books, including The Next Fifty Years, is also the author of By the Late John Brockman, The Third Culture, and Digerati: Encounters with the Cyber Elite. He is the founder and CEO of Brockman Inc., a literary and software agency, and the publisher and editor of the Web site Edge. He lives in New York City.www.edge.org
Praise For Curious Minds…
"Fascinating . . . An invigorating debate." –The Washington Post Book World

"And intriguing collection of essays . . . full of comical and thought-provoking stories." –Psychology Today

"Quirky, absorbing and persuasive in just the way that good stories are." –Nature

"In this superlative collection . . . scientists–who also happen to be splendid writers–discuss what first attracted them to careers in science. . . . Inspiring." –Sci Fi Magazine

"Revealing accounts and entertaining reading." –Science News

"Compelling . . . rather than revealing a secret formula that produces an adult scientist, this collection proves just how disparate are the ingredients. . . . Idiosyncrasies are, in the end, what gives the collection its kick." –Discover

"Forget algebra camp–a scientist's life can also begin with Gilligan's Island or the James Bond movie Thunderball . . . Entertaining stories." –Popular Science

"[An] engrossing treat of a book . . . crammed with hugely enjoyable anecdotes." –New Scientist