Harbor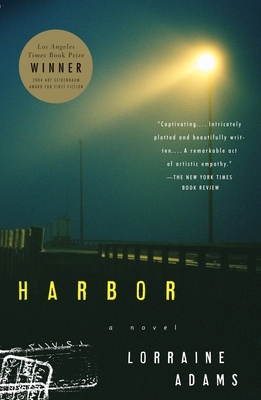 Harbor
Vintage Books USA, Paperback, 9781400076888, 291pp.
Publication Date: September 13, 2005
* Individual store prices may vary.
Buy at Local Store
Enter your zip code below to purchase from an indie close to you.
or
Buy Here
Description
A "New York Times" and "Washington Post" Notable Book"Entertainment Weekly"'s #1 Fiction Book of the YearA tremendously acclaimed and exquisitely realized novel of literary suspense, Harbor recounts the adventures of Aziz Arkoun who, at twenty-four, makes his way to America via the hold of an Algerian tanker and the icy waters of Boston harbor. Aziz soon finds himself a community of fellow Algerians, but their means of survival in this strange land begins to remind him of the dangerous world he was desperate to escape. As the story of Aziz and his friends unfolds, moving from East Boston and Brooklyn to Montreal and a North African army camp, Harbor takes us inside the ambiguities of these men's past and present lives. When Aziz discovers that he and his circle are most likely under surveillance, all assumptions, his and ours, dissolve in urgent, mesmerizing complexity.
About the Author
Lorraine Adams was educated at Princeton University and was a graduate fellow at Columbia University, where she received a master's degree in literature. She won a Pulitzer Prize for investigative reporting and was a staff writer for the "Washington Post "for eleven years. She lives in Washington, D.C., and is at work on her second novel.
"From the Hardcover edition."
Praise For Harbor…
"Captivating. . . . Intricately plotted and beautifully written. . . . A remarkable act of artistic empathy." --The New York Times Book Review"Luminous. . . . Heart-stopping. . . . Adams draws her characters with compassion and humor." --The Washington Post Book World "Razor-sharp. . . .  A vivid, fast-paced entry into an immigrant's story that is part thriller, part social commentary and at times darkly funny. . . .Terrific." –The Miami Herald "A great, gutsy first novel. . . . Outstanding."–Entertainment Weekly "Deeply introspective and tantalizingly beautiful. . . . Harbor is one of the best new novels of the year."–The Baltimore Sun"Complex, vibrant, and imaginative . . . as compelling as it is necessary."–Esquire"Endlessly fascinating. . . . Convincing and utterly compelling." --Time"Mesmerizing. . . . A ripping read. . . . A heart-rending cautionary tale of American justice gone awry." --Los Angeles Times Book Review"Remarkable . . . brilliant. . . . Compelling and haunting. . . . Adams creates an exquisite tension in a character who is at once unseen and yet hunted, both estranged from society and deeply enmeshed in a complicated social order. . . . [Harbor is] a work of art that lifts the veils of many of our assumptions that have formed since 9/11." --Boston Globe"[A] great, gutsy first novel. . . . Outstanding." --Entertainment Weekly"Fascinating. . . . [Adams] writes convincingly from within the hearts and minds of her characters. Though topical, the narrative flies well beneath the headlines." --The Oregonian"A chilling story of identity and loss culled from real-life experiences. . . . A cautionary tale that asks readers to be open-minded. . . . [Adams] never loses sight of a story that alternates between incredible moments of joy and sadness." --Pittsburgh Tribune-Review "Insightful. . . . Adams adds welcome shading to the usual portrayal of the war on terror." --U.S. News & World Report "A disturbing tale where suspicion is enough to trump innocence and the consequences of naivet? are potentially disastrous. . . . Adams humanizes the terrorist threat and convincingly shows how a confined worldview can breed generalizations that may hatch tragic consequences." --San Francisco Chronicle"Brilliant. . . . A strong and disturbing book." --Annie Proulx, Book-of-The Month Club News "Adams displays a gift for detail and character that takes us fully inside the complex systems of survival, kinship, and religious ideology which form Aziz's world." --The New Yorker"Adams is a sharp observer of the current war-on-terror politics. [Harbor] counters the media's easy perceptions in our age of xenophobia by immersing readers in the depths of myriad characters." --The Dallas Morning News"Mesmerizing. . . . A timely and grippingly written book, Harbor helps give the war on terror a human face." --People "Adams drags her characters through the wheels of fate and makes them sing . . . . [Her] sentences move with speed and visual economy, but also contain poetic beauties. . . . A compelling story with great characters--timely, suspenseful and profound." --Ruminator Review"A powerful look at America through immigrant eyes that is not only timely but essential in our post-9/11 society." --Ft. Worth Star-Telegram"[Adams] writes with verve and is so convincing that it often seems that this is a true story instead of fiction . . . A story about complex interaction between human beings of greatly differing cultures, written by an author of enormous talent." --Deseret Morning News