Absolutely American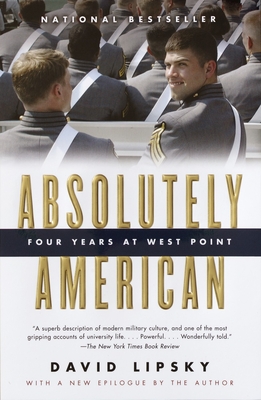 Absolutely American
Four Years at West Point
Vintage Books, Paperback, 9781400076932, 384pp.
Publication Date: May 11, 2004
* Individual store prices may vary.
Buy at Local Store
Enter your zip code below to purchase from an indie close to you.
or
Buy Here
Description
As David Lipsky follows a future generation of army officers from their proving grounds to their barracks, he reveals the range of emotions and desires that propels these men and women forward. From the cadet who struggles with every facet of West Point life to those who are decidedly huah, Lipsky shows people facing challenges so daunting and responsibilities so heavy that their transformations are fascinating to watch. Absolutely American is a thrilling portrait of a unique institution and those who make up its ranks.
About the Author
David Lipsky is a senior consultant with Conversant and Associate Professor at Manhattanville College.
Praise For Absolutely American…
"A superb description of modern military culture and one of the most gripping accounts of university life. . . . Powerful. . . . Wonderfully told." –The New York Times Book Review

"David Lipsky's up close and personal account of life at West Point is a national service. It takes the reader deep inside one of America's most important institutions."--Tom Brokaw

"Addictive . . . a story that could inspire even nonmilitary buffs to follow the cadets' careers like those of their favorite sports heroes." –Newsweek

"A fascinating, funny and tremendously well written account of life on the Long Gray Line. Take a good look: this is the face America turns to most of the world, and until now it's one that most of us have never seen."—Time

"Immesely rich. . . . A genuinely evocative and wonderfully detailed portrait of an absolutely American institution." –Newsday
"Wonderfully engaging, a surprisingly nuanced portrait of these cadets."—The Atlanta Journal-Consitution

"Duty, Honor, Casual Sex: Plain American hedonism is powerful at West Point, David Lipsky found, but so are discipline and self-sacrifice . . . A superb description of modern military culture, and one of the most gripping accounts of university life I have read. This book must have been extremely hard to organize, and yet it reads with a novelistic flow. How teenagers get turned into leaders is not a simple story, but it is wonderfully told in this book." –David Brooks, The New York Times Book Review

"A labour of love. While Lipsky's friends back home wrestled with nagging, existential questions, he steeped himself in the demanding yet salubrious routines of cadet life, reveling in the youngsters' comaraderie and marveling at their commitment to the academy's core values, "Duty, Honor, Country." The result is an immensely rich collection of portraits of young men and women put under very adult pressure by an insitution that itself must constantly adapt to the society around it. Lipsky [establishes] a dramatic tension that holds for the next 300-plus pages. [A] genuinely evocative and wonderfully detailed portrait of an absolutely American institution."–Newsday

"A fascinating, funny and tremendously well written account of life on the Long Gray Line. Lipsky approaches the cadets like an anthropologist stalking the elusive Yanomamo tribe, and with good reason: he's in a weird, weird place. Take a good look: this is the face America turns to most of the world, and until now it's one that most of us have never seen. A mesmerizing and powerfully human spectacle"–Time Magazine

"Masculinity has traditionally been associated with the military. Absolutely American, which vividly traces West Point cadets through their four years at the Academy, deals with both sexes and tells a lot about the changing definitions and conditions of masculinity and femininity in the new century."–Elaine Showalter, The Washington Post Book World

"Illuminating. . .Lipsky has done a distinguished service to a proud school."–Entertainment Weekly

"Although confined to one geographic area, Absolutely American covers a vast sociological, political and psychological landscape. . .neither an institutional hagiography nor a scathing, Seymour Hersh-like exposé, [this] is an assiduously researched, evenhanded examination that focuses on the changing value systems of the institution and the people who experience those changes. Lipsky has written an important, insightful book on the current state of our premier military academy and on the intrepid first West Point class to enter the War on Terrorism."–Houston Chronicle

"A sunny portrait of group of young men and women. . .[Lipsky] is effective as a chronicler of personality."–The New Yorker

"Lipsky is fascinated by the rigors of the academy and how a divers group of young men and women struggle with its challenges. He achieves the impressive feat of writing from inside cadet culture.Unusually complete and perceptive. . Lipsky's understanding of their lives is remarkable."–Chicago Tribune

"Wonderfully engaging, a surprisingly nuanced portrait of these cadets."–The Atlanta Journal-Consitution

"Most will be delighted to find a new twist on the subject of military education. This book shows that West Point thrives under resilient leadership and a class of future officers that is human, while still being moral, real and enthusiastic. In short, this book is "huah."–San Antonio Express-News

"A once-skeptical Rolling Stone writer spends four years watching teamwork, hard work and self-sacrifice gain meaning for fledgling Army officers, children of a society that glorifies consumerism, individualism and instant gratification."–Providence Journal-Bulletin

"Whether Lipsky is trudging through the woods with tired and hungry cadets or sitting in on barracks-room bull sessions, he marvels at the sense of duty he finds. Wonderfully upbeat. . .a charming book."–St-Louis Post-Dispatch

"An unprecedentedly in-depth examination . . . [at a time] when all the lessons and discipline, which seemed anachronistic in the sunny days of peace, prove suddenly, vividly necessary."–Men's Journal

"A richly anecdotal portrait of West Point during one of the most dramatic transitional phases in its 200-year history."–The Onion

"Superb"–Publisher's Weekly

"An exhaustive and very human account of West Point and its cadets."–The New York Observer

"Freshman could learn a lot by reflecting on a book that suggests that the main problem with traditional American values is that we do such a poor job of living up to them. So could we all."–Charlotte News & Observer

"Goes inside the walls of the academy to discover and portray the cadets and the officers who train them, giving civilians an up-close look at the real West Point experience. [Lipsky] captures the language, emotion, history and motivation of the extraordinary people he profiles. Illuminating. . .captivating and compelling."–The Courier-Journal (Louisville, KY)

"[Lipsky] followed [the cadets] into mess halls, barracks, classrooms, bars and training exercises. He watched them do push-ups, polish their shoes, get drunk, cry, trhow up and grow up. Lipsky chronicles it all. . . [it] reads like a novel."–Alabama Mobile Register

"Highly Recommended"–Library Journal (starred review).

"The latest, best, and I hope the last of its kind. Shows what West Point does. . .taking apathetic and uncommitted young people and developing them into talented, capable officers, sometimes in spite of themsleves…. Illuminates the real, human complexities of the Military Academy."–Army Magazine

"Lipsky takes up the problems of maintaining West Point's unique culture--the military squared and cubed--in the face of a general culture that offers a host of temptations....Outstanding."–Booklist.

"[Told in a] breathless narrative fashion that routinely builds each anecdote to a climactic finale. This formula provides some of the most memorable passages in the book. These vignettes [can] sound like clichés, [but] the message here is that in an age of irony and cynicism, West Point proudly embracés such clichés, and Lipsky ear for dialogue and his eye for specific detail breath life into these chapters. Lipsky's book stands out as the most accurate and engrossing look at West Point, warts and all, as it exists today."–Pointer View