The Return of the Dancing Master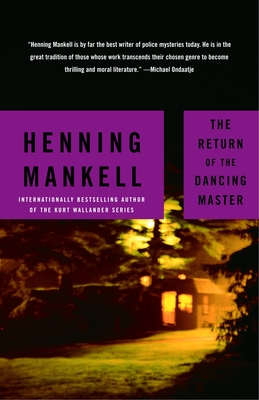 The Return of the Dancing Master
Vintage Crime/Black Lizard, Paperback, 9781400076956, 407pp.
Publication Date: February 8, 2005
* Individual store prices may vary.
Buy at Local Store
Enter your zip code below to purchase from an indie close to you.
or
Buy Here
Description
When retired policeman Herbert Molin is found brutally slaughtered on his remote farm in the northern forests of Sweden, police find strange tracks in the snow -- as if someone had been practicing the tango. Stefan Lindman, a young police officer recently diagnosed with mouth cancer, decides to investigate the murder of his former colleague, but is soon enmeshed in a mystifying case with no witnesses and no apparent motives. Terrified of the disease that could take his life, Lindman becomes more and more reckless as he unearths the chilling links between Molin's death and an underground neo-Nazi network that runs further and deeper than he could ever have imagined.
About the Author
Internationally acclaimed author Henning Mankell has written numerous Kurt Wallander mysteries. The books have been published in thirty-three countries and consistently top the bestseller lists in Europe, receiving major literary prizes (including the UK s Golden Dagger Award in 2000) and generating numerous international film and television adaptations. Born in a village in northern Sweden in 1948, Mankell divides his time between Sweden and Maputo, Mozambique, where he works as the director of Teatro Avenida."
Praise For The Return of the Dancing Master…
"Henning Mankell is by far the best writer of police mysteries today. He is in the great tradition of those whose work transcend their chosen genre to become thrilling and moral literature." —Michael Ondaatje

"As full and rich as any American police procedural of the last 20 years. . . . You'll shiver with the cold of a Scandinavian winter." —The Plain Dealer

"Compelling...there's no one better at the genre. . . . His characters are his greatest invention." —San Francisco Chronicle

"It's time to admit that the cutting edge of mystery writing has shifted overseas. . . . The Return of the Dancing Master gives homicide a moody elegance." --Time

"Violence strikes with quick and shocking ferocity in The Return of the Dancing Master. . . . With its expansive time frame and meticulous procedural details, the story has a density that demands–and rewards–intellectual movement." --The New York Times Book Review

"Mankell weaves a mournful spell through all his mysteries by adopting a calm, dispassionate tone that artfully underlines an abiding humanism for psychic as well as physical suffering. . . . [Its] ice-cold logic . . . sends a shiver down the spine. . . . Features the same masterful sense of atmosphere . . . that Mankell brings to all his writing." --The Boston Globe

"Spellbinding. . . . Mankell fascinates." --Los Angeles Times

"The pressure mounts, with unpredictable dead-ends and beguiling about-turns. The uncertainty makes the reader alert to every nuance, suspicious of everyone. . . . Mankell [is] the Nordic king of European thriller writers." --The Observer (London)

"Gruesome enough to satisfy any gore-loving mystery reader. . . . [Mankell] has emerged as the natural heir to the great Swedish crime novelists Maj Sjowall and Per Wahloo." --The New York Times

"Absorbing, chilling and dripping with evil atmosphere." --The Times

"[Mankell] is an expert at writing about logical action and reactions. . . . Nothing can spoil the enjoyment of this superbly crafted mystery." --Orlando Sentinel

"Irrestible. . . . [Mankell] is a master at constructing gripping, intricately plotted police procedurals with a strong dose of social commentary. . . . The appeal . . . [is] the sheer brutal imaginativeness of the crimes." --Business Week

"Delightfully morbid. . . . Steering between literature and suspense, [Mankell's] measured prose recalls those gloomy precisionists Peter Handke and Patricia Highsmith." --The Guardian

"The new cast are introduced with customary brilliance, and the political edge suggests a fine new direction from this immense talent." --Scotland on Sunday