Maps for Lost Lovers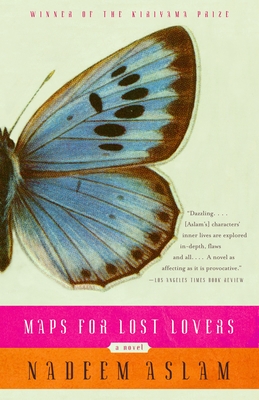 Maps for Lost Lovers
Vintage Books USA, Paperback, 9781400076970, 379pp.
Publication Date: May 9, 2006
* Individual store prices may vary.
Shop Local
Enter your zip code below to find indies closest to you.
Description
If Gabriel Garcia Marquez had chosen to write about Pakistani immigrants in England, he might have produced a novel as beautiful and devastating as "Maps for Lost Lovers." Jugnu and Chanda have disappeared. Like thousands of people all over Enland, they were lovers and living together out of wedlock. To Chanda's family, however, the disgrace was unforgivable. Perhaps enough so as to warrant murder.As he explores the disappearance and its aftermath through the eyes of Jugnu's worldly older brother, Shamas, and his devout wife, Kaukab, Nadeem Aslam creates a closely observed and affecting portrait of people whose traditions threaten to bury them alive. The result is a tour de force, intimate, affecting, tragic and suspenseful.
About the Author
Nadeem Aslam is the author of two previous novels: "Maps for Lost Lovers, "winner of the Kiriyama Prize, and the award-winning "Season of the Rainbirds, "both of which were long-listed for the Man Booker Prize. Born in Pakistan, he now lives in England.
Praise For Maps for Lost Lovers…
"Impressive. . . . [Aslam's] prose is stylistically dazzling. . . . His characters' inner lives are explored in-depth, flaws and all. . . . A novel as affecting as it is provocative."—Los Angeles Times Book Review

"Extraordinary. . . . It deepens our knowledge of life. . . . Aslam has created a novel which–grave yet exultant, brutal but compassionate–achieves its complex humanity, and its final affirmations of love and beauty, through a real reckoning with despair and heartbreak."—The New York Review of Books

"Artful . . . and heartbreaking. . . . [Aslam's] prose is richly atmospheric, his tone engagingly introspective."—The New York Times Book Review

"A writer's tour de force. . . . Powerful."—San Francisco Chronicle

"Aslam is a rich and vividly metaphorical writer . . . This is an exquisitely sad novel, and it is worth the effort of letting its spell take you over."—Newsday

"Poetic, sensuous, precisely descriptive and lavishly allusive prose . . . Maps for Lost Lovers not only an important and memorable achievement, but a book that is deeply satisfying to read."—The Washington Times

"Aslam reveals–artfully and heartbreakingly–a psychology at war with itself . . . His prose is richly atmospheric, his tone engagingly introspective."—Akash Kapur, The New York Times Book Review

"[An] exquisitely crafted, lushly written novel . . . Aslam combines sensual prose with a compelling storyline."—Booklist

"Poignant, lushly written . . . a truthful story that resists easy conclusions."—Publishers Weekly

"[A] painstakingly crafted exploration of cultural conflict . . . exquisite."—Kirkus