Habits of Empire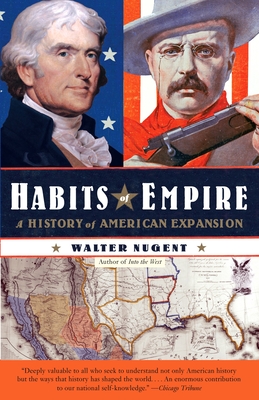 Habits of Empire
A History of American Expansion
Vintage Books USA, Paperback, 9781400078189, 387pp.
Publication Date: June 9, 2009
* Individual store prices may vary.
Buy Now
or
Shop Local
Enter your zip code below to purchase from an indie close to you.
Description
Since its founding, the United States' declared principles of liberty and democracy have often clashed with aggressive policies of imperial expansion. In this sweeping narrative history, acclaimed scholar Walter Nugent explores this fundamental American contradiction by recounting the story of American land acquisition since 1782 and shows how this steady addition of territory instilled in the American people a habit of empire-building.

From America's early expansions into Transappalachia and the Louisiana Purchase through later additions of Alaska and island protectorates in the Caribbean and Pacific, Nugent demonstrates that the history of American empire is a tale of shifting motives, as the early desire to annex land for a growing population gave way to securing strategic outposts for America's global economic and military interests.

Thorough, enlightening, and well-sourced, this book explains the deep roots of American imperialism as no other has done.
About the Author
Walter Nugent is the Andrew V. Tackes Professor of History Emeritus at Notre Dame. He is the author or editor of more than a dozen books, most recently "Into the West: The Story of Its People", "Habits of Empire: A History of American Expansion", and "Progressivism: A Very Short Introduction".
Praise For Habits of Empire…
"Deeply valuable to all who seek to understand not only American history but the ways that history has shaped the world. . . . An enormous contribution to our national self-knowledge." —Chicago Tribune"A rich, detailed, and thoroughly researched discussion of U.S. diplomatic history." —Foreign Affairs"Excellent. . . . A readable and valuable work in American history." —The New York Times"A comprehensive history of how the thrust of empire shaped American history . . . [Nugent] makes it plain that the policies of the present administration have a pedigree that goes back even to the Founding Fathers."—The Economist"A lucid, vivid, and above all candid history of American expansion. . . . Readers will undoubtedly be continually applying what [Nugent] says about Franklin, Jefferson, Madison, Polk, and McKinley to what they read in their newspapers."—Daniel Walker Howe, New York Sun"Compelling . . . Controversial . . . Challenges some of America's most cherished ideas about itself."—Publishers Weekly"Erudite yet accessible, Nugent's history lightly expresses its opinions without interrupting the arc of its story."--Booklist"Walter Nugent is a national treasure. No historian since Frederick Jackson Turner has done more to explain the enormous impact of westward expansion upon the American experience. Elegantly written, impeccably researched, Habits of Empire will soon take its place, I suspect, among the most important historical commentaries of our era." —David Oshinsky, author of Polio: An American Story"How did the United States come to regard itself as morally superior to other nations and entitled to employ force rather than persuasion to get its way? This lucid, wide-ranging book not only answers that question but offers essential understandings for those who wish to break the bad habits of empire." —David J. Weber, author of Bárbaros: Spaniards and Their Savages in the Age of Enlightenment."At last, the essential background, succinctly and clearly told, which is absolutely necessary to understand if we are to deal with the post-9/11 tragedies of American foreign policy. Walter Nugent rightly identifies those tragedies as the culminations of a post-1776 American 'ideology of expansion.'"  —Walter LaFeber, Tisch University Professor Emeritus, Cornell University, author of America, Russia, and the Cold War