A Sense of the Mysterious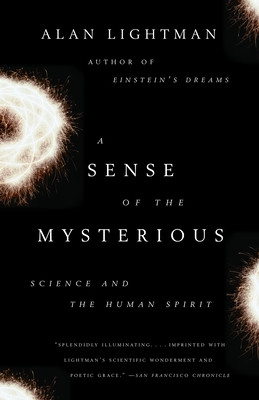 A Sense of the Mysterious
Science and the Human Spirit
Vintage Books USA, Paperback, 9781400078196, 211pp.
Publication Date: January 3, 2006
* Individual store prices may vary.
Buy Now
or
Shop Local
Enter your zip code below to purchase from an indie close to you.
Description
From the bestselling author of "Einstein's Dreams "comes this lyrical and insightful collection of science writing that delves into the mysteries of the scientific process and exposes its beauty and intrigue.In these brilliant essays, Lightman explores the emotional life of science, the power of imagination, the creative moment, and the alternate ways in which scientists and humanists think about the world. Along the way, he provides in-depth portraits of some of the great geniuses of our time, including Albert Einstein, Richard Feynman, Edward Teller, and astronomer Vera Rubin. Thoughtful, beautifully written, and wonderfully original, "A Sense of the Mysterious" confirms Alan Lightman's unique position at the crossroads of science and art.
About the Author
Alan Lightman, Ph.D., currently Senior Lecturer in Physics at M.I.T., received the Association of American Publishers Award for the best book in physical science for Origins. His writing appears in the "Atlantic", "Granta", "Harpers", "The New Yorker", "The New York Review of Books", and elsewhere. He is the author of "The New York Times" bestseller, "Einstein's Dreams" and "Good Benito".
Praise For A Sense of the Mysterious…
"Splendidly illuminating... Imprinted with Lightman's scientific wonderment and poetic grace."
—San Francisco Chronicle

"Original. . . . Heartfelt. . . . Illuminating. . . . Lightman writes with his characteristic, unmannered leanness. His style takes something from the scientists who 'want to hear that call of certain truth, that clear note of a struck bell.'" —St. Louis Post-Dispatch

"A fine introduction to the excitement and pleasures of science by a scientist who is a humanist in the noblest sense of the word."—Los Angeles Times

"This slender volume mixes insightful scientific biographies with revealing autobiographical accounts and leavens them both with clearly told physics lessons for lay readers." —The Boston Globe

"Wonderfully perceptive. . . . Finely chiseled essays." —Scientific American