All That Is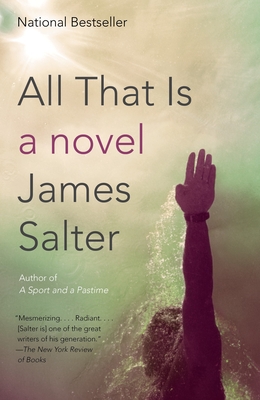 All That Is
Vintage Books, Paperback, 9781400078424, 350pp.
Publication Date: January 28, 2014
* Individual store prices may vary.
Buy at Local Store
Enter your zip code below to purchase from an indie close to you.
or
Buy Here
Description
NATIONAL BESTSELLER
A "New York Times""Book Review" Notable Book
An NPR "Great Reads" Book
"All That Is" explores a life unfolding in a world on the brink of change. Philip Bowman returns to America from the battlefields of Okinawa and finds success in the competetive world of publishing in postwar New York yet what he most desires, and what eludes him, is love.
Here is PEN/Faulkner winner James Salter's dazzling, sometimes devastating portrait of love and ambition, a fiercely intimate account of the great shocks and grand pleasures of being alive.
About the Author
James Salter is an American novelist and short story writer whose work includes the classic A Sport and A Pastime. He has won the PEN/Faulkner award, and who was elected to the American Academy of Arts and Letters in 2000.
Praise For All That Is…
"A crowning achievement. . . . If there were a Mount Rushmore for writers, [Salter] would be there already."
—The New York Times Book Review

"Magnificent. . . . A major literary event. . . . Salter, who has the gift of writing sentences that exactly reproduce what we feel and think in the moment we feel and think it, moves beyond that incomparable skill and does something even more difficult: He gives us his heart."
—The Huffington Post

"Magical . . . A plaintive, impressionistic look at how we live in time."
—The Washington Post

"Vividly sketched. . . . Salter's surprising, striking grace is there in every scene. . . . Breathtaking."
—Chicago Tribune

"Intimate, rueful and finely observed."
—Time

"A writer of tremendous ability. . . . An absolute stunner."
—The Christian Science Monitor

"Shimmering. . . . Intoxicating. . . . Few can match Salter's depictions of life's physical pleasures, the sheer sensual delight of being in this world. . . . All That Is will last."
—San Francisco Chronicle

"Exquisite. . . . A mature, unsentimental story of one man's restless search for love. . . . [Salter] captures the angst of the privileged classes who seem to have all anyone could desire and yet long for something that lies just out of reach. . . . Effortlessly beautiful."
—Minneapolis Star Tribune

 "The best novel I've read in years. All That Is will be treasured by its readers. Salter's vivid, lucid prose does exquisite justice to his subject—the relentless struggle to make good on our own humanity. Once again he has delivered to us a novel of the highest artistry."
—Tim O'Brien

"A much-anticipated occasion. . . . The book feels very true, even if the lives of the characters are quite different from our own."
—The Seattle Times

"A sexy, bittersweet story."
—Los Angeles Times

"Striking. . . . Seamless. . . . Beautifully done."
—Milwaukee Journal Sentinel

"[Salter is] one of the finest prose stylists and most enviable American writers of the last half century. . . . [All That Is is] the capstone of his half-century-long career."
—GQ "Read of the Month"

"A consistently elegant and enjoyable novel, full of verve and wisdom." —Julian Barnes
"Fantastic. . . . A brilliant indictment of love, even as it revels in its sensual transports." —Slate

"Salter [is] looking like the last exponent of a particular strain of 20th-century American fiction, deeply informed by the aspirations of postwar America. . . . He stands poised for a victory lap." 
—The Village Voice

"A sad, hopeful work that beautifully evokes the pleasures and disappointments of a life lived in books, relationships, America."
—Guernica

 "Salter has been called 'The Master'. . . . Bowman's life, like Salter's, coincides almost perfectly with the rise of American power and the brief, golden era of publishing. All That Is is not only the story of Bowman's life but also of almost every life with which his intersects."
—Newsday

"This masterpiece is a smooth, absorbing narrative studded with bright particulars. If God is in the details, this book is divine."
—Edmund White

"Salter is a brilliant writer. . . . [All That Is is a] journey led by a true master of the written word. . . . Intensely beautiful."
—Associated Press

"You come away from [Salter's] work wondering if you should have lived more, even if living more, in his work, often leads to ruin."
—The New Yorker

 "Salter is par excellence the explorer of depths, a diver seeking the hidden, vital wellsprings of our consciousness. . . . [He's] done as much as any American writer to give us the sense of what it actually feels like to be alive and gripped by the fever of existence."
—The Dallas Morning News