The Making of Henry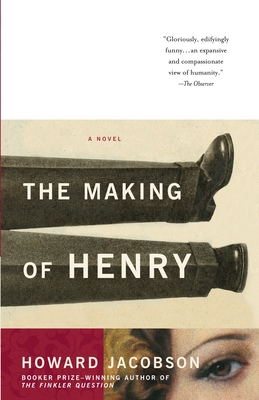 The Making of Henry
Anchor Books, Paperback, 9781400078615, 340pp.
Publication Date: September 14, 2004
* Individual store prices may vary.
Buy at Local Store
Enter your zip code below to purchase from an indie close to you.
or
Not Currently Available for Direct Purchase
Description
Man Booker Prize–Winning Author of THE FINKLER QUESTION

Swathed in his kimono, drinking tea from his samovar, Henry Nagle is temperamentally opposed to life in the 21st century. Preferring not to contemplate the great intellectual and worldly success of his best boyhood friend, he argues constantly with his father, an upholsterer turned fire-eater–and now dead for many years. When he goes out at all, Henry goes after other men's wives.

But when he mysteriously inherits a sumptuous apartment, Henry's life changes, bringing on a slick descendant of Robert Louis Stevenson, an excitable red setter, and a wise-cracking waitress with a taste for danger. All of them demand his attention, even his love, a word which barely exists in Henry's magisterial vocabulary, never mind his heart.

From one of England's most highly regarded writers, The Making of Henry is a ravishing novel, at once wise, tender and mordantly funny.
About the Author
Ne en 1942 a Manchester, Howard Jacobson est l auteur d une dizaine de romans dont "La Question Finkler", couronne par le Man Booker Prize en 2010. Surnomme le Philip Roth anglais par le "New York Times, " celui qui se prefere en Jane Austen juif - plaide pour un retour en grace du comique en litterature - (Le Monde des livres). "La Grande" "Menagerie" a recu le prix Bollinger Everyman Wodehouse 2013, qui recompense le meilleur livre comique britannique".J, " egalement selectionne pour ce prix en 2014, est le quatireme roman de l'auteur publie aux editions Calmann-levy.
- Impossible de lire Howard Jacobson sans rester beat devant la musicalite de son style, la force de ses personnages et son incroyable perspicacite. Un chef-d oeuvre. -"The Times"
"Aucune comparaison ne saurait rendre justice au livre de Jacobson qui pourait bien etre le roman dystopique anglais de son temps.""The Guardian"
Praise For The Making of Henry…
"He is our funniest living writer. . . . No writer cherishes the language more, flirts with it as furiously or leads it in directions that might incline sedate readers to dial [911] " Allison Pearson

"Jacobson is one of Britain's best postwar writers. . . . There's a dark side to his comedy, so dark that only comedy can deal with it." — The Independent (London)

"The comic intelligence of David Lodge or Martin Amis. . . the expansiveness of John Updike and Philip Roth. . . . Exhilaratingly intelligent." — The Guardian (London)

"A writer who can make you laugh out loud on the bus . . . Jacobson conjures up a tale that combines sexual comedy with the kind of expansive intelligence prized by the Booker judges. . . . Jacobson is due some recognition for his prodigious output." –The Observer

"Jacobson is one of Britain's best postwar writers. He's well known as a funny writer, but that undersells him. There's a dark side to his comedy, so dark that only comedy can deal with it." –The Independent

"Jacobson's . . . exuberant prose and Swiftian rage cause considerable collateral damage along the way." –The Sunday Times

"[Jacobson is] by some distance, the cleverest, funniest, sharpest writer we have." –The Sunday Telegraph

"Yes, it's true what they say about the Jacobson sense of humor. After the first couple of pages . . . you become certain that he can hone any sentence for maximum drollery, and that he'll find exactly the right word on every occasion." –The Daily Express

"Jacobson breathes vivid life into his characters, capturing their speech patterns exactly while describing their clothes, habitats, children, friends, food, and drink. All this is brought into sharp relief by his sardonic gift for creating the very believable and very funny situations in which his characters find themselves trapped." –The Daily Mail

"This is masterly writing; the language under tight control. . . .monstrously funny." –The Independent
 
"Jacobson's writing is as luscious and funny as ever. . .You're never far from comic brilliance." –The Telegraph
 
"This is a terrific novel, full of pert observations and salty insights into the ageing process–not just Henry's but the world's . . . . Jacobson is at the top of this form." —The Evening Standard
 
"A beautifully rounded portrait of a man gazing into the prism of the past in order to see the future. . . . A touching, picturesque tale . . . seriously funny." –The Sunday Telegraph
  
"Painfully funny." –The Sunday Times