Decreation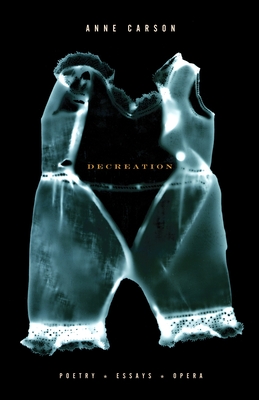 Decreation
Poetry, Essays, Opera
Vintage Books USA, Paperback, 9781400078905, 245pp.
Publication Date: October 10, 2006
* Individual store prices may vary.
Buy at Local Store
Enter your zip code below to purchase from an indie close to you.
or
Buy Here
Description
Simone Weil described "decreation" as "undoing the creature in us"-an undoing of self. In her first collection in five years, Anne Carson explores this idea with characteristic brilliance and a tantalizing range of reference, moving from Aphrodite to Antonioni, Demosthenes to Annie Dillard, Telemachos to Trotsky, and writing in forms as varied as opera libretto, screenplay, poem, oratorio, essay, shot list, and rapture. As she makes her way through these forms she slowly dismantles them, and in doing so seeks to move through the self, to its undoing.
About the Author
Anne Carson was born in Canada and teaches ancient Greek for a living. A former MacArthur Fellow, awards for her numerous books include the T.S. Eliot Prize and The Los Angeles Times Book Prize. Red Doc> was recently awarded the Griffin Poetry Prize and the inaugural Folio Prize. Her first full poetry collection, SHORT TALKS, was published by Brick Books in 1992 and is now presented as a new edition in 2015: SHORT TALKS: BRICK BOOKS CLASSICS 1.
Praise For Decreation…
"One of the most interesting gatherings of material that any poet has published within living memory. . . . She is quite unlike any other poet writing today." –The Economist"Exhilarating . . . Carson takes risks, subverts literary conventions, and plays havoc with our expectations. She is a wonder: an unconventional poet who has a huge following among today's readers of poetry and whose work has been honored with our most prestigious literary awards . . . When it comes to content, most poetry is boring compared to Carson's . . . She writes as if every poet, writer, religious thinker, and philosopher who has ever lived is still our contemporary . . . Carson is immensely learned. [Her] prose, with its clarity, compactness, and memorable epigrams, reminds me of Emerson . . . To work with fragments of ancient lyric poems, as Carson does, is to [be] an archaeologist of the invisible whose tools are her learning and her imagination . . . She is interested in her characters in a way that most poets are not. Her language is the language of fiction and the manner in which the stories are told resembles magical realism with its wild imaginings and its carnival atmosphere. As for her subject matter, she writes perceptively and amusingly about men and women in love, their jealousies, their misunderstandings, and the solitude which they are not able to overcome . . . The essays in Decreation are full of marvelous insights . . . What the poet and the authentic thinker share, according to Heidegger, is their ability to wonder at how things exist and to live with that wonder. Carson reminds us that poeticizing in this broader philosophical sense and in the narrow sense of the poetic have always been related. The play of philosophical ideas makes [all] her books worth reading . . . Enthralling, masterful, engaging, stunning, inspired, impressive, profoundly moving, poignant, probing."–The New York Review of Books"Cool, resolute, smart, and lovely . . . Carson has emerged in the last two decades as a kind of prophet of the unknowable. Decreation may be her loneliest book–a theological treatise and dramatization of how to escape one's self . . . Carson attempts [this task] with great tenderness, framing the undoing as a work of love that compels one to forsake oneself in order to be something more–truer, more luminous, and also more transient. Carson moves from form to form–poetry, essay, screenplay–and from body to body . . . In the shape traced by Carson's rapid flight patterns one can almost discern a transcendent emptiness, uninhabitable to more stationary souls."–The Village Voice