Rubicon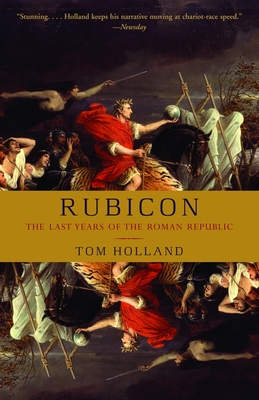 Rubicon
The Last Years of the Roman Republic
Anchor Books, Paperback, 9781400078974, 408pp.
Publication Date: March 8, 2005
* Individual store prices may vary.
Buy at Local Store
Enter your zip code below to purchase from an indie close to you.
or
Buy Here
Description
In 49 B.C., the seven hundred fifth year since the founding of Rome, Julius Caesar crossed a small border river called the Rubicon and plunged Rome into cataclysmic civil war. Tom Holland's enthralling account tells the story of Caesar's generation, witness to the twilight of the Republic and its bloody transformation into an empire. From Cicero, Spartacus, and Brutus, to Cleopatra, Virgil, and Augustus, here are some of the most legendary figures in history brought thrillingly to life. Combining verve and freshness with scrupulous scholarship, Rubicon is not only an engrossing history of this pivotal era but a uniquely resonant portrait of a great civilization in all its extremes of self-sacrifice and rivalry, decadence and catastrophe, intrigue, war, and world-shaking ambition.
About the Author
Tom Holland gained the top degree at Cambridge before earning his Ph.D. at Oxford. An accomplished radio personality in Britain, he has written a highly acclaimed series of adaptations for Radio 4 of Herodotus s Histories and Virgil s Aeneid, to be followed by Homer s Iliad and Odyssey, and is the author of the novels The Bone Hunter, Slave of My Thirst, and Lord of the Dead."
Praise For Rubicon…
"Stunning. . . . Holland keeps his narrative moving at chariot-race speed." –Newsday

"This gripping narrative resurrects some of the half-forgotten personalities and events that shaped who we are. . . . It enables the reader to relive the slow, bloodstained collapse of a system, not only as a fascinating drama in its own right but as a morality tale." –Anthony Everitt, author of Cicero

"A fascinating picture of Roman city life. . . . In every aspect of this story, Holland expertly makes the Romans, so alien and yet so familiar, relevant to us." –Los Angeles Times

"Tremendously intelligent, vibrant and witty." –The Washington Times

"The crispest and most compelling account. . . . A historical thrill ride." –The Seattle Times

"Splendid. . . . Rich. . . . Holland writes history with a sense of immediacy, and with the passion and pacing of a novelist. . . . His absorbing, witty narrative captures the scope and drama of the republic and shapes its labyrinthine elements into a single continuum." –Houston Chronicle

"[A] book that really held me, in fact, obsessed me. . . . Narrative history at its best." –Ian McEwan, The Guardian, Books of the Year

"Very readable. . . . Witty, literate. . . . [It] outlines as no other story in history can the perils and misadventures that bring down democratic governments." –St. Petersburg Times

"Gripping and hugely entertaining. . . . It is a story crammed with drama and spectacle, but the real attraction of Holland's book is the wit and contemporary sensibility that he brings to his often bloody tale." –The Sunday Times (London), Top 5 History Books of the Year

"Lucid, stylish and witty, and interesting in its analysis. . . . Informative, balanced, and accessible, Holland's compelling brand of narrative history is a praiseworthy rendition of one of the most complex periods in history." –BookPage

"A lively, popularly written history. . . . Holland's book is full of memorable characters." –World

"Explosive stuff. . . . Seriously intelligent history written with élan and gusto." –BBC History Magazine

"Lively, readable, briskly paced. . . . Thoroughly grounded in the relevant source material. . . . Seamless, forward-moving. . . . Not only a gripping account of the Roman past, but an important perspective on the current American moment. . . . Rubicon succeeds brilliantly." –Claremont Review of Books

"Richly resonant. . . . Ancient history lives in this vivid chronicle." –Booklist (starred review)

"A terrific read and a remarkable piece of scholarship. As an introduction to Roman history, it is unlikely to be bettered." –Daily Mail

"Holland brings a novelist's eye to the ancient republic's collapse. . . . [He] also draws a fascinating portrait of the social life of Rome and the republic in the first century B.C. . . . Written with flair, wit and solid historical research, Rubicon is grand history and grandly entertaining." –Flint Journal

"A vivid social portrait of the Roman world." –Sunday Telegraph