The Iraq War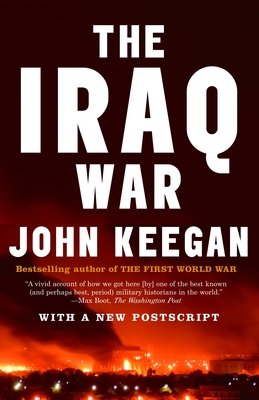 The Iraq War
The Military Offensive, from Victory in 21 Days to the Insurgent Aftermath
Vintage Books, Paperback, 9781400079209, 304pp.
Publication Date: May 24, 2005
* Individual store prices may vary.
Buy at Local Store
Enter your zip code below to purchase from an indie close to you.
or
Buy Here
Description
The 2003 Iraq war remains among the most mysterious armed conflicts of modernity. In The Iraq War," "John Keegan offers a sharp and lucid appraisal of the military campaign, explaining just how the coalition forces defeated an Iraqi army twice its size and addressing such questions as whether Saddam Hussein ever possessed weapons of mass destruction and how it is possible to fight a war that is not, by any conventional measure, a war at all.
Drawing on exclusive interviews with Donald Rumsfeld and General Tommy Franks, Keegan retraces the steps that led to the showdown in Iraq, from the highlights of Hussein's murderous rule to the diplomatic crossfire that preceded the invasion. His account of the combat in the desert is unparalleled in its grasp of strategy and tactics. The result is an urgently needed and up-to-date book that adds immeasurably to our understanding of those twenty-one days of war and their long, uncertain aftermath.
About the Author
About the Author:
John Keegan is and internationally renowned journalist and historian. His books include The Face of Battle and The Mask of Command.

Praise For The Iraq War…
"A vivid account of how we got here [by] one of the best known (and perhaps best, period) military historians in the world." –Max Boot, The Washington Post

"Nobody does it better. The narration is clear and exciting. Everything moves; the author has you in his grip." –David Fromkin, The New York Times Book Review

"Highly readable. . . . Contains both plenty of tactical detail . . . and ample historical insight." –The Christian Science Monitor

"Authoritative. . . . A useful addition to our knowledge." –Walter Laqueur, Los Angeles Times Book Review

"A must-read. . . . Illuminating. . . . He provides exceptional detail . . . that will enthrall military buffs." –Fort Worth Star-Telegram

"Highly readable. . . . One of the best brief guides to the history of this whole confusing field." –Financial Times

"A superb strategic overview. . . . Concise and well-written. . . . Keegan provides a basis for understanding the embers of the insurgent conflagration." –The Washington Times

"A remarkable achievement." –The Spectator

"Comprehensive. . . . It is in his examination of the military campaign itself that the insight really surfaces. He cuts directly to the heart of the mystery and questions surrounding this operation. . . . His analysis . . . is sound and enlightening–from the political to the tactical level." –New York Post