Peace Be Upon You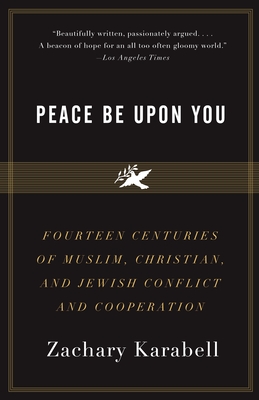 Peace Be Upon You
Fourteen Centuries of Muslim, Christian, and Jewish Conflict and Cooperation
Vintage Books USA, Paperback, 9781400079216, 343pp.
Publication Date: March 11, 2008
* Individual store prices may vary.
Buy at Local Store
Enter your zip code below to purchase from an indie close to you.
or
Not Currently Available for Direct Purchase
Description
In a narrative that is at once thoughtful and passionate, hopeful but without illusions, award-winning historian Zachary Karabell reveals the history of peaceful coexistence among Muslims, Christians, and Jews over the course of fourteen centuries until the present-day.
The harsh reality of religious conflict is daily news, and the rising tensions between the West and Islam show no signs of abating. However, the relationship between Muslims, Christians, and Jews has not always been marked with animosity; there is also a deep and nuanced history of peace.
From the court of caliphs in ancient Baghdad, where scholars engaged in spirited debate, to present-day Dubai, where members of each faith work side by side, Karabell traces the forgotten legacy of tolerance and cooperation these three monotheistic religions have enjoyed a legacy that will be vital in any attempt to find common ground and reestablish peace.
About the Author
Zachary Karabell is an author, money manager, commentator, and president of River Twice Research, where he analyzes economic and political trends. Educated at Columbia, Oxford, and Harvard, where he received his PhD, Karabell has written eleven previous books. He is a regular commentator on CNBC, MSNBC, and CNN. He writes the weekly Edgy Optimist column for "Reuters "and "The Atlantic", and is a contributor to such publications as "The Daily Beast", "Time", "The Wall Street Journal", "The New Republic", "The New York Times", and "Foreign Affairs."
Praise For Peace Be Upon You…
"Beautifully written, passionately argued. . . . [A] beacon of hope for an all too often gloomy world."—Los Angeles Times "A hopeful, historical meditation. . . . Lucid, well written and persuasive."—The Washington Post Book World"A fine, wise and important book. . . . It shows that Christians and Muslims have known prosperous, co-existent peace before-and could do so again." —The Times, London "Reminds us of the possibility of a better future." —Fareed Zakaria, editor, Newsweek International