44 Scotland Street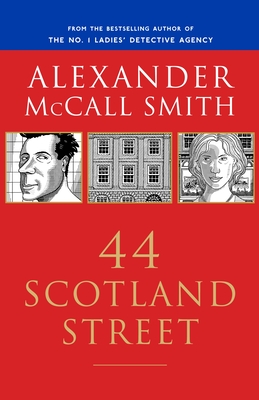 44 Scotland Street
Anchor Books, Paperback, 9781400079445, 325pp.
Publication Date: June 14, 2005
* Individual store prices may vary.
Buy at Local Store
Enter your zip code below to purchase from an indie close to you.
or
Buy Here
Description
44 SCOTLAND STREET - Book 1
The residents and neighbors of 44 Scotland Street and the city of Edinburgh come to vivid life in these gently satirical, wonderfully perceptive serial novels, featuring six-year-old Bertie, a remarkably precocious boy just ask his mother.
Welcome to 44 Scotland Street, home to some of Edinburgh's most colorful characters. There's Pat, a twenty-year-old who has recently moved into a flat with Bruce, an athletic young man with a keen awareness of his own appearance. Their neighbor, Domenica, is an eccentric and insightful widow. In the flat below are Irene and her appealing son Bertie, who is the victim of his mother's desire for him to learn the saxophone and italian all at the tender age of five.
Love triangles, a lost painting, intriguing new friends, and an encounter with a famous Scottish crime writer are just a few of the ingredients that add to this delightful and witty portrait of Edinburgh society, which was first published as a serial in" The Scotsman" newspaper.
About the Author
Alexander McCall Smith is the internationally best-selling author of numerous novels, including the No. 1 Ladies Detective Agency series, the Isabel Dalhousie series, the Portuguese Irregular Verbs series, and the 44 Scotland Street series. His books have been translated into forty-six languages. Formerly a professor of medical law, he now devotes himself to writing. He lives in Scotland.


Praise For 44 Scotland Street…
"McCall Smith's assessments of fellow humans are piercing and profound. . . . [His] depictions of Edinburgh are vivid and seamless." --San Francisco Chronicle

"[McCall Smith's] accomplished novels . . . [are] dependent on small gestures redolent with meaning and main characters blessed with pleasing personalities. . . . .These novels are gentle probes into the mysteries of human nature." --Newsday

"McCall Smith's writing . . . harks back to a more tranquil age, where gentle ironies and strict proprieties prevail. . . . The pleasure of the novel lies in its simplicity." --The Independent (London)

"Utterly enchanting . . . It is impossible to come away from an Alexander McCall Smith 'mystery' novel without a smile on the lips and warm fuzzies in the heart." --Chicago Sun-Times

"McCall Smith's assessments of fellow humans are piercing and profound. . . . [His] depictions of Edinburgh are vivid and seamless." --San Francisco Chronicle

"McCall Smith's generous writing and dry humor, his gentleness and humanity, and his ability to evoke a place and a set of characters without caricature or condescension have endeared his books . . . to readers." --The New York Times

"Pure joy. . . . The voice, the setting, the stories, the mysteries of human nature. . . . [McCall Smith's] writing is accessible and the prose is beautiful." --Amy Tan

"[McCall Smith's] accomplished novels . . . [are] dependent on small gestures redolent with meaning and main characters blessed with pleasing personalities . . . Not so much conventional mysteries, [his] novels are gentle probes into the mysteries of human nature." --Newsday

"Mr. Smith, a fine writer, paints his hometown of Edinburgh as indelibly as he captures the sunniness of Africa. We can almost feel the mists as we tread the cobblestones." --The Dallas Morning News

"Alexander McCall Smith has become one of those commodities, like oil or chocolate or money, where the supply is never sufficient to the demand. . . . [He] is prolific and habit-forming." --The Globe and Mail (Toronto)

"[McCall Smith] captures the cold, foggy, history-drenched atmosphere of Edinburgh . . . with a Jane Austen-like attention to detail." --USA Today