Cheever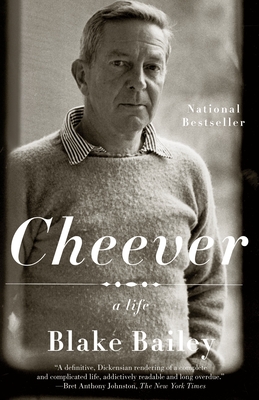 Cheever
A Life
Vintage Books USA, Paperback, 9781400079681, 770pp.
Publication Date: March 9, 2010
* Individual store prices may vary.
Buy Now
or
Shop Local
Enter your zip code below to purchase from an indie close to you.
Description
John Cheever spent much of his career impersonating a perfect suburban gentleman, the better to become one of the foremost chroniclers of postwar America. Written with unprecedented access to essential sources including Cheever's massive journal, only a fraction of which has ever been published Bailey's "Cheever" is a stunning example of the biographer's art and a brilliant tribute to an essential author.
About the Author
Blake Bailey is the author of biographies of John Cheever, Richard Yates, and Charles Jackson and is the authorized biographer of Philip Roth. He lives in Virginia, where he is the Mina Hohenberg Darden Professor of Creative Writing at Old Dominion University.
Praise For Cheever…
A New York Times Notable Book and a Los Angeles Times, Chicago Tribune, San Francisco Chronicle, Time, Christian Science Monitor, Slate, Arizona Republic, and Kansas City Star Best Book of the Year

"A triumph of thorough research and unblinkered appraisal."
—John Updike, The New Yorker
 
"A definitive, Dickensian rendering of a complete and complicated life, addictively readable and long overdue."
—Bret Anthony Johnston, The New York Times
 
"Beautifully woven, deeply researched, and delightfully free of isms. . . . Here's Cheever at the center of the storm."
—Susan Salter Reynolds, Los Angeles Times
 
"Fascinating. . . . Bailey counter[s] both his subject's soaring enthusiasms and paranoid forebodings with clear-eyed judgment."
—David Propson, The Wall Street Journal
 
"Mesmerizing. . . . Every inch the record that Cheever deserves. . . . [Bailey] gives us remarkable access to one of the greatest writers of his time."
—Vince Passaro, O, the Oprah Magazine
 
"So wise and serious, so human an account. . . . Even more eloquent and resourceful than Bailey's celebrated biography of Richard Yates."
—Geoffrey Wolff, The New York Times Book Review
 
"Sympathetic and deeply engaging. . . . This book is also a portrait of the twentieth century."
—Jacob Molyneux, San Francisco Chronicle
 
"[Bailey's] life of Cheever is an impressive, even a beautiful, achievement."
—Algis Valiunas, Commentary

"[An] expansive, wonderfully written biography. . . . Unstinting. . . . Bracing. . . . To read Bailey on Cheever is to arrive at a much fuller appreciation of a deeply gifted chronicler of American life."
—Matt Shaer, Christian Science Monitor

"A portrait of the man drawn judiciously but compellingly and in harrowing detail . . . . [A] fine biography."
—Richard Lacayo, Time

"Elegant. . . An insightful, clear-eyed life of the man."
—The Economist

"Surely definitive. . . . [Bailey] gets down his subject's humorous staying power, even in the midst of spiritual turmoil."
—William H. Pritchard, Boston Globe

"Masterful."
—Nathan Heller, Slate

"Exceptional. . . . Along with sensitivity and dispassionate thoroughness, it's his smooth blending of sources into a readable narrative that sets Bailey apart as a biographer."
—Jeffrey Burke, Bloomberg News

"Exemplary. . . . Bailey has brought [Cheever's] life into such eloquent relief that it's easy to imagine Cheever, if only for a moment, finally feeling like someone understood him."
—Gregg LaGambina, A. V. Club

"Definitive. . . . Judicious and nuanced. . . . Mr. Bailey's research is impeccable and exhaustive—a mighty feat."
—Adam Begley, The New York Observer

"A biography of monumental heft . . . that certifies Cheever's enduring relevance."
—James Wolcott, Vanity Fair

"Bailey's thorough new biography completes the total revolution of our image of the man has undergone in the quarter century since his death."
—Jonathan Dee, Harper's

"Tremendous. . . . Magisterial. . . . Bailey [is] a great biographer, utterly dogged and indefatigable about telling details."
—Jeff Simon, The Buffalo News

"Impressive. . . . Finely written. . . . Bailey has done a near-perfect job of making the connections between the man and his masterpieces."
—Michael Upchurch, Seattle Times

"Fascinating . . . . Powerfully moving . . . . A brilliant example of literary biography at its best."
—Doug Childers, Richmond Times-Dispatch

"Quite successfully sorts out the facts, masks and contradictions of this unique American life."
—John Barron, Chicago Sun-Times

"The appearance of Bailey's poised, thorough biography is both timely and corrective . . . Bailey presents his subject in all his contradictory fullness . . . Cheever: A Life succeeds by balancing insight, judgment, empathy, and clarity."
—Floyd Skloot, Philadelphia Inquirer

"Bailey has achieved what I (along with many others) thought well-nigh impossible: an outstanding, exhaustive (but never exhausting), clear-eyed and evenhanded biography of Cheever and a literary triumph in its own right."
—George W. Hunt, America
 
"Magnificent."
—Maud Newton, Barnes and Noble Review