The Okinawa Diet Plan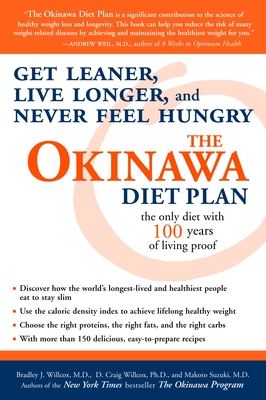 The Okinawa Diet Plan
Get Leaner, Live Longer, and Never Feel Hungry
Harmony, Paperback, 9781400082001, 432pp.
Publication Date: April 26, 2005
* Individual store prices may vary.
Buy Now
or
Shop Local
Enter your zip code below to purchase from an indie close to you.
Description
In their "New York Times" bestseller "The Okinawa Program," Drs. Bradley and Craig Willcox and Makoto Suzuki explained why the Okinawans are the longest-lived people on earth. Now, they offer a practical diet program rooted in Okinawan traditions so that you too can have a leaner, more metabolically efficient body that will stay healthier and more youthful. Conveniently divided into three dietary tracks western, eastern, and a fusion plan that combines both their program will help you achieve healthy weight loss without deprivation. With more than 150 recipes, an eight-week phase-in plan, and other unique resources, "The Okinawa Diet Plan" is an easy-to-follow breakthrough concept in healthy weight loss.
About the Author
Willcox is a geriatrics fellow at Harvard and a Mayo Clinic-trained internist.

Willcox is a medical anthropologist anda tenured assistant professor at Okinawa Prefectural University College of Nursing.

Bradley J. Willcox, M.D., M.SC., is an internationally recognized expert on healthy aging, a U.S. National Institute on Aging– funded scientist, and a principal investigator in geriatrics for the Pacific Health Research Institute. He is also Co-Principal Investigator of the Okinawan Centenarian Study and Assistant Professor of Geriatric Medicine at the University of Hawaii.
D. Craig Willcox, PH.D., M.H.SC., is a noted medical anthropologist and gerontologist. He is an internationally recognized expert in nutritional anthropology, aging, and health. He is Assistant Professor at Okinawa Prefectural University– College of Nursing and Co-Principal Investigator of the Okinawa Centenarian Study.
Makoto Suzuki, M.D., PH.D., is a cardiologist and geriatrician and an internationally recognized expert on aging and health. He is Professor Emeritus at the University of the Ryukyus in Okinawa and Professor of Human Welfare and Director of the Okinawa Gerontology Research Center at Okinawa International University. He is the founder, Director, and Principal Investigator of the Okinawa Centenarian Study.
Praise For The Okinawa Diet Plan…
"The Okinawa Diet Plan is a significant contribution to the science of healthy weight loss and longevity. This book can help you reduce the risk of many weight-related diseases by achieving and maintaining the healthiest weight for you." —Andrew Weil, M.D., author of 8 Weeks to Optimum Health

"Spectacular. This is the best advice on all aspects of lifestyle in one book that can be found anywhere. It is not only well-researched and well-written, but the amount of ground covered is immense." —Thomas Wolever, M.D., Ph.D., Professor, Department of Nutritional Sciences, Faculty of Medicine, University of Toronto, coauthor of The Glucose Revolution