Dreaming in Code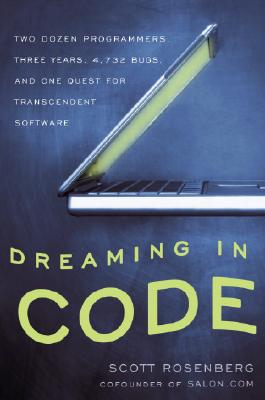 Dreaming in Code
Two Dozen Programmers, Three Years, 4,732 Bugs, and One Quest for Transcendent Software
Crown, Hardcover, 9781400082469, 416pp.
Publication Date: January 16, 2007
* Individual store prices may vary.
Buy at Local Store
Enter your zip code below to purchase from an indie close to you.
or
Not Currently Available for Direct Purchase
Description
Their story takes us through a maze of dead ends and exhilarating breakthroughs as they and their colleagues wrestle not only with the abstraction of code but with the unpredictability of human behavior,
especially their own. Along the way, we encounter black holes, turtles, snakes, dragons, axe-sharpening, and yak-shaving—and take a guided tour through the theories and methods, both brilliant and misguided, that litter the history of software development, from the famous "mythical man-month" to Extreme Programming. Not just for technophiles but for anyone captivated by the drama of invention, Dreaming in Code offers a window into both the information age and the workings of the human mind.
Praise For Dreaming in Code…
"Technology people like to call complicated problems 'nontrivial.' Scott Rosenberg has taken an extremely nontrivial topic and made it accessible. He plainly admires the people who create code, but shows them as the complex, flawed beings we all are- and how human talents, quirks and passions become part of what people create. Dreaming in Code is stellar reporting and writing."
–Dan Gillmor, Director, Center for Citizen Media and author of We the Media

"We live in a world increasingly governed by the near-invisible logic of software, and yet most of us know almost nothing about that hidden world inside our computers. Dreaming in Code is a fascinating and sobering exploration of how the challenges of programming both inspire and undermine our human drive to create new tools. Beautifully written, it's a book for anyone interested in the roots of creativity and innovation, for coders and non-coders alike."
–Steven Johnson, author of Everything Bad Is Good for You and Emergence

"The great software genius Bill Joy likes to say that writing software is like building a cathedral: It's art, science, architecture, and manual labor all rolled into one. Dreaming in Code illuminates the truth of that metaphor in all its subtlety and fullness. It has drama, comedy, pathos, and poignancy- and its center, in Mitch Kapor, is one of the most fascinating and yet least understood figures of the digital revolution. It's also so smart and insightful on its subject as any book I know."
–John Heilemann, New York Magazine columnist and author of Pride Before The Fall: Trials of Bill Gates and the End of the Microsoft Era

"Dreaming in Code is the first true successor to Tracy Kidder's Soul of a New Machine, and is written with a combination of technical sophistication and narrative skill not seen in many years. Read it to understand what all these software wizards actually do."
–James Fallos, The Atlantic

"Dreaming in Code bravely goes where no nonprogrammer has dared to go before: into the whirlwind where human imagination struggles to become code. Scott Rosenberg brilliantly interweaves the story of a start-up software company with the history of our (endless) attempts to rationalize the process of programming. He brings the reader close to the programmers: to root for them, then worry for them, as their project begins falling into all the old traps. Yet Rosenberg's admiration for the visionaries and coders shines through, until one almost believes they will one day succeed at creating their own 'Key To All Mythologies,' their repository of all things digital. Most people do not understand what goes into the creation of computer software, but now they will."
–Ellen Ullman, author of Close to the Machine: Technophilia and Its Discontents