Cotton Song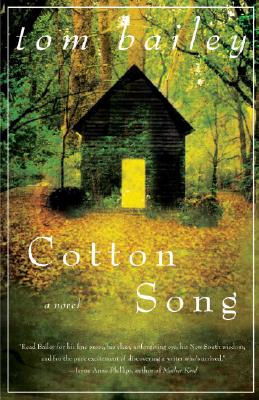 Cotton Song
Three Rivers Press (CA), Paperback, 9781400083336, 331pp.
Publication Date: November 27, 2007
* Individual store prices may vary.
Not Currently Available for Direct Purchase
or
Shop Local
Enter your zip code below to purchase from an indie close to you.
Description
In World War II era Mississippi, the aftermath of a tragedy takes on all the intensity and heat of the Delta summer when the town of Ruleton copes with violence, racism, and a vengeful spree that threatens the life of a young girl and the soul of the small town.
In Hushpuckashaw County in the 1940s, many things are desperately unfair. Letitia Johnson, a young black mother and the nanny for one of the town's most distinguished couples, knows this only too well when the couple's baby is found drowned in its bath. Accused by the grieving family and the enraged townspeople, Letitia quickly sends her twelve-year-old daughter, Sally, out to hide in the brush before she is taken into custody. The angry mob would get revenge when they drag Letitia from her jail cell and hang her that very night. But they wouldn t get Sally.
Baby Allen, a courageous social worker, is assigned to Sally's case, and gradually coaxes the young girl out of hiding, wins her trust, and secures her protection. But once Sally is safe, Baby is left with the greater mission of uncovering the truth about who is responsible for the infant's death a shocking revelation that will change the ways and attitudes of a town that has been long in need of changing.
Beautiful and gripping, Cotton Song is the story of a woman's fight to save the child left behind after the horrific lynching that took her mother's life.
"From the Hardcover edition.
About the Author
Tom Bailey works as an editor for Seacoast Publishing and has published more than fifteen titles, ranging from an Air Force training manual to Gulf vacation guides. In the past, Bailey has worked as a writer and editor for several magazines and newspapers. He received a BS in business administration from Jacksonville State University and has earned numerous awards from organizations such as The Associated Press and Sigma Delta Chi. He is an active member of the Alabama Historical Association and the Social Studies Council of Alabama. An avid scuba diver and deep sea fisherman, Bailey lives in Hoover, Alabama, with his wife.
Praise For Cotton Song…
"Tom Bailey's riveting and thought-provoking second novel, Cotton Song, zeroes in on a small town in Mississippi during the summer of 1944. Bailey's novel succeeds on several levels: as a Faulkner-esque tale of empathetic but alienated characters, as an indictment of human brutality and as a litany of the South's struggle to come to terms with the racial strife of its not-too-distant past." – Booklist

"In his haunting second novel, Bailey presents a vicious history of race relations in his home state. With its heels firmly in the Southern gothic tradition, the novel depicts a sun-scorched landscape where prospects for justice are as wilted as the cotton plants that stud the dusty ground." – Publishers Weekly

"Cotton Song is lifted from the pedestrian by style, by bringing a different perspective to what in less skilled hands would be merely repetitive and shallow. Bailey, like the Mississippians he revered as a child, unwinds a story wrapped in the dialect and mannerisms of the region and drives it to a dramatic close."
– The Biloxi Sun Herald