Our Story Begins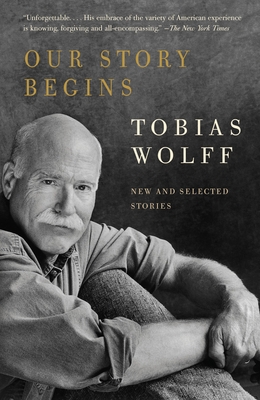 Our Story Begins
New and Selected Stories
Vintage, Paperback, 9781400095971, 400pp.
Publication Date: April 7, 2009
* Individual store prices may vary.
Buy Now
or
Shop Local
Enter your zip code below to purchase from an indie close to you.
Description
This collection of stories—twenty-one classics followed by ten potent new stories—displays Tobias Wolff's exquisite gifts over a quarter century.
About the Author
Tobias Wolff was born in Birmingham, Alabama, and grew up in Washington State. He attended Oxford University and Stanford University, where he now teaches English and creative writing. He has received the Story Prize, both the Rea Award and PEN/Malamud Award for excellence in the short story, the Los Angeles Times Book Award, and the PEN/Faulkner Award.
Praise For Our Story Begins…
"Unforgettable…. Wolff's voice is unfailingly authentic, while his embrace of the variety of American experience is knowing, forgiving and all-encompassing." —The New York Times Book Review"A volume that belongs on everybody's shelf. . . . Wolff conjures stories that etch your memory—which is to say, they become a part of you." —Los Angeles Times Book Review"It's impossible to read Tobias Wolff and not come away transformed. . . . [He] fully exposes the good, bad, and ugly about what it means to be alive in this day and age."—The Philadelphia Inquirer"Tender, dazzling, heart-stopping fiction from a master of deep truths and unexpected turns. . . . Intensely pleasurable." —O, The Oprah Magazine "The complexity of emotion [he] evokes within the space of a few pages, from hilarity to heartbreak, is often nothing short of astonishing." —Rocky Mountain News"Sublime art. . . . Wolff's alchemy in these stories is oddly and deeply transformative. They inevitably rise above their ostensible subject into some universal terrain [with] intelligence, compassion and a radical openness to life's unfathomable surprises." —San Francisco Chronicle"Cause for celebration. . . . There's no one else practicing the form with as much warm devotion or cool mastery." —The Washington Post"Wolff is a superb storyteller who makes almost anything he touches ring true." —Newsweek "For thirty years Wolff has been publishing stories that feel yanked from the jagged mouth of real experience and turned into art…The entire moral crux of life pivots on an instant…These stories remind a reader how powerful and important good stories are, especially ones that look unblinkingly into our wicked, yearning hearts." —John Freeman, Sunday Star-Ledger"Adept short stories–whole worlds evoked in just a few pages–[with] the heft and density, the unexpected beauty, of Alice Munro, of Chekhov." —Lisa Jennifer Selzman, Houston Chronicle "Wolff reminds us again and again why we still return to fiction for what we need to know about how people live their lives." —Daniel Torday, Esquire "Restrained, droll, and nearly flawless in structure, Tobias Wolff's keen-edged stories often concern confused folks who want to do the right thing, or at least find a way to allow themselves to believe that they're doing the fith thing...Ten of [these] stories are new, and they're more accomplished than ever." —Karen Karbo, Entertainment Weekly, (Grade A)"[Tobias Wolff] writes with the exacting precision of a bombmaker. With steady hands and sinister ambitions, he crafts his best fictions in miniature, detonating his characters' lives in the time it takes to read a paragraph, crafting tales that turn on a single, diabolical sentence…Wolff's stories are filled with such distillations of intense, life-altering moments, and Our Story Begins presents the best examples from his past quarter century of writing." —Joe Woodward, Poets & Writers"Wolff dexterously probes, in immaculately clear prose, the core of ordinary people's passions and vulnerabilities." —Brad Hooper, Booklist"[Our Story Begins] exhibits classic richness and depth, and it's built to last…An impressive range of contemporary experience is distilled into crisp, urgent little dramas." —Kirkus Reviews