The Palace of Illusions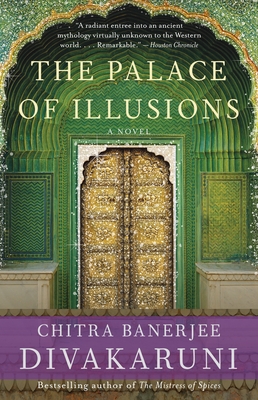 The Palace of Illusions
Anchor Books, Paperback, 9781400096206, 360pp.
Publication Date: February 10, 2009
* Individual store prices may vary.
Buy at Local Store
Enter your zip code below to purchase from an indie close to you.
or
Buy Here
Description
Taking us back to a time that is half history, half myth and wholly magical, The Palace of Illusions" "gives new voice to Panchaali, the fire-born heroine of the Mahabharat, as she weaves a vibrant interpretation of an ancient tale. Married to five royal husbands who have been cheated out of their father's kingdom, Panchaali aids their quest to reclaim their birthright, remaining at their side through years of exile and a terrible civil war. But she cannot deny her complicated friendship with the enigmatic Krishna or her secret attraction to the mysterious man who is her husbands' most dangerous enemy as she is caught up in the ever-manipulating hands of fate.
About the Author
Chitra Banerjee Divakaruni is the author of the bestselling novels Queen of Dreams, Mistress of Spices, Sister of My Heart, and The Vine of Desire, and of the prizewinning story collections Arranged Marriage and The Unknown Errors of Our Lives. She lives in Houston, Texas, and teaches creative writing at the University of Houston.
Praise For The Palace of Illusions…
"A radiant entree into an ancient mythology virtually unknown to the Western world. . . . Remarkable." —Houston Chronicle "A mythic tale brimming with warriors, magic and treachery. . . . Divakaruni's sentences dazzle; the images she creates are masterful." —Los Angeles Times "Complex, beautifully wrought. . . . Divakaruni's feminist reading of Indian lore offers readers a magical lens into the political interplay of gender, castes, birthright and life in the monarchy. . . . A writer to watch." —Rocky Mountain News "Divakaruni's prose is as spirited as Panchaali herself, written with energy and humor." —Milwaukee Journal-Sentinel "Epics are intended to be accessible to the most extensive of audiences. And with The Palace of Illusions Divakaruni likewise makes this reimagining of the "Mahabharat" easy to understand through the simple, straightforward narrative. Moreover, Divakaruni masterfully describes the lyrical beauty of Indians and the elegant logic of Hinduism."—San Antonio News Express "The Palace of Illusions is not only an exciting, action-packed read, but also an educating one, and will likely encourage those curious enough to delve into the original Mahabharata."—Erin Kobayashi, Toronto Star "Enchanting.... Anita Diamant's The Red Tent, Philippa Gregory's The Other Boleyn Girl—now we can add Divakaruni's The Palace of Illusions to the list."—The Miami Herald "The Palace of Illusions is unique, amongst Divakaruni's very best. It is particularly refreshing to read an author who breaks the mold as clearly as Divakaruni does.... A creative, illuminating feminist work that compels us to re-examine the original text.... As in all great cathartic tales, Divakaruni's novel grasps our attention from beginning to end and is a healing, aesthetic experience."—India Currents "Divakaruni has taken a male-centered story and breathed new life into its female characters, giving us a rich tale of passion and love, power and weakness, honor and humiliation. Whether or not readers are familiar with the "Mahabharat" epic, still fascinating and relevant several millennia on, they will enjoy this entertaining, insightful, and suspenseful story."—The Union, Nevada City"Known for writing on the modern Indian immigrant experience in novels such as "Queen of Dreams," Divakaruni goes back in time, this time with a novel look at the ancient Indian epic "The Mahabharat" (think: an Indian "Iliad"). With hundreds of characters in the story of a great war, she tells the story from the point of view of a woman - Panchaali - who is married to five brothers"—New York Post "Divakaruni has woven a lyrical tale imbued with the scent of ancient incense, yet simultaneously rooted in modern-day relevancy. Brimming with betrayals, religious fervor and war-torn streets, The Palace of Illusions is a journey experienced from the vantage point of Panchaali, a powerful woman dfiven by love, honor and, in the end, a fate that unfolds despite her resolve."—Karen Ann Cullotta, Bookpage"Your truly epic narrative myth calls for bitter experience descending, avalanch-like, down dynasties, incorporating dramatic turning points of ineradicable impact; curses; looming fates; tricky and meddlesome gods; feuds; sages, sorcerers and wars. These elements and many more are found in abundance in Chitra Banerjee Divakaruni's new novel, The Palace of Illusions, which ambitiously encapsulates the Indian epic "Mahabharat" within a 360-page novel.—Elsbeth Lindner, San Francisco Chronicle "By rendering the women characters as complexly as the men, and fully illuminating the "insanity of war" and the fragility of civilization, Divakaruni's historic and transporting variation adds new and truly revelatory psychological and social dimensions to the great epic's indelible story of sacrifice and spiritual awakening. Divakaruni has triumphantly fulfilled a profound mission."—Donna Seaman, Booklist "Divakaruni has taken a male-centered story and breathed new life into its female characters, giving us a rich tale of passion and love, power and weakness, honor and humiliation. Whether or not readers are familiar with the Mahabharat epic, still fascinating and relevant several millennia on, they will enjoy this entertaining, insightful and suspenseful story. Recommended for all fiction collections."—Joy Humphrey, Library Journal "The Palace of Illusions is as grand and tragic as the epic poems by Homer. The story is complex, as political relationships grow and develop, and friends and enemies are created, leading to battles and wars that will eventually destroy them all. I was captivated by the tragic storyline and the fate into which Panchaali was born. This admirable attempt to recreate the epic Mahabharat from the viewpoint of a strong woman is Chitra Banerjee Divakaruni's best work yet."—Marie Hashima Lofton, Bookreporter.com"For more than 20 years now, Chitra Banerjee Divakaruni has been telling stories of Indian women from her home in California. Her women are desperate, wonderful, complicated, lyrical, memorable, even magical.... Chitra's women experience love, loss and longing through tangled marriages, bitter divorces, childbirth, abortion, abuse, violence, racism, poverty and riches. Now, in a daring novel out this month, Banerjee Divakaruni returns to a fantastic world, inhabited by kings, queens, villains and sorcerers."—Vogue India "Vivid and inventive.... Divakaruni's rich, action-filled narrative contrasts well with the complex psychological portrait of a mythic princess."—Publishers Weekly"Divakaruni offers a quasi-feminist retelling of the great Hindu text known as the Mahabharat...an intimate, feminine portrait that is both contemporary and timeless. An ambitious project effectively executed."—Kirkus Reviews