Portraits of a Marriage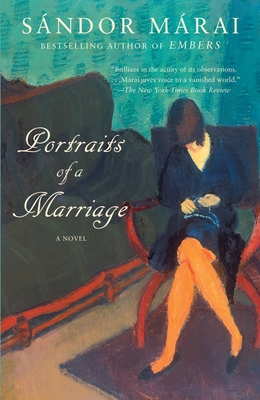 Portraits of a Marriage
Vintage Books, Paperback, 9781400096671, 371pp.
Publication Date: March 6, 2012
* Individual store prices may vary.
Shop Local
Enter your zip code below to find indies closest to you.
Description
A rediscovered masterwork from famed Hungarian novelist Sándor Márai, Portraits of a Marriage tracks the lifelong entanglement of a man and two women haunted by class differences and misdirected longings.

Peter and Ilonka are a wealthy couple whose outwardly perfect marriage is undone by secrets. The insecure Ilonka believes she can never be elegant and refined enough for her husband, while Peter has long been tormented by his forbidden love for Judit, a peasant and servant in his childhood home. What Judit longs for most, however, is freedom from the constraints of the society that has ensnared all three in a vortex of love and loss. Set against the backdrop of Hungary between the wars, in a world on the verge of dramatic change, this exquisite novel offers further posthumous evidence of Marai's brilliance.

Translated from the Hungarian by George Szirtes
 
About the Author
SANDOR MARAI (pronounced SHAN-dor) was born in Kassa, in the Austro-Hungarian Empire in 1900. He rose to fame as one of the leading literary novelists in Hungary in the 1930s. Profoundly antifascist, he survived WWII, but persecution by the Communists drove the his country in 1948, first to Italy and then to the United States. He committed suicide in San Diego in 1989. He is the author of a significant body of work, which Knopf is translating into English.

Laszlo Krasznahorkai was born in Gyula, Hungary, in 1954 and lives in the hills of Szentlaszlo, Hungary. He has written several novels and won numerous prizes, including Best Book of the Year in Germany in 1993 for The Melancholy of Resistance and the 2010 Brucke Berlin Prize for "Seiobo". His other books include "Animalinside", "Satantango", and "War and War".
Praise For Portraits of a Marriage…
"Portraits of a Marriage is brilliant in the acuity of its observations, its unremitting intelligence. . . . Marai gives voice to a vanished world in a chorus that is both eulogy and manifesto." —The New York Times Book Review

"Superbly readable. . . . Deeply satisfying. . . . Like Tolstoy, he has a kind of genius for the small touches that define a marriage, and also like Tolstoy, he is brilliant at dissecting the tiny differences that separate one layer of society from another." —The Daily Beast

"With this phenomenal novel, our conviction is confirmed: he ranks as one of the twentieth century's greatest novelists." —Booklist
 
"A cubist portrait of a harsh love and a dying society, elegantly paced and delightfully contradictory. . . . With each new voice [Márai] builds suspense and reveals new layers and twists to this tale. Suffused with nostalgia and regret, the book evokes and examines both the nature of longing and the decline of a great empire." —Publishers Weekly (starred review)