Vows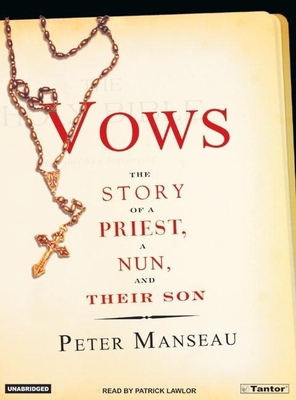 Vows
The Story of a Priest, a Nun, and Their Son
Tantor Media Inc, Compact Disc, 9781400101979
Publication Date: December 1, 2005
* Individual store prices may vary.
Buy at Local Store
Enter your zip code below to purchase from an indie close to you.
or
Buy Here
Description
The 1950s was a boom time for the Catholic Church in America, with large families of devout members providing at least one son or daughter for a life of religious service. Boston was at the epicenter of this explosion, and Bill Manseau and Mary Doherty - two eager young parishioners from different towns - became part of a new breed of clergy, eschewing the comforts of homey parishes and choosing instead to minister to the inner-city poor. Peter Manseau's riveting evocation of his parents' parallel childhoods, their similar callings, their experiences in the seminary and convent, and how they met while tending to the homeless of Roxbury during the riot-prone 1960s is a page-turning meditation on the effect that love can have on profound faith. Once married, the Manseaus continued to fight for Father Bill's right to serve the church as a priest, and it was into this situation that Peter and his siblings were born and raised to be good Catholics while they witnessed their father's personal conflict with the church's hierarchy. A multigenerational tale of spirituality, Vows also charts Peter's own calling, one which he tried to deny even as he felt compelled to consider the monastic life, toying with the idea of continuing a family tradition that stretches back over 300 years of Irish and French Catholic priests and nuns. It is also in Peter's deft hands that we learn about a culture and a religion that has shaped so much of American life, affected generations of true believers, and withstood great turmoil. Vows is a compelling tale of one family's unshakable faith that to be called is to serve, however high the cost may be.
About the Author
Fils d'un pretre catholique et d'une religieuse ayant tous deux renonce a leurs v ux, Peter Manseau est ne en 1974 a cote de Boston. Apres avoir fonde en 2000 la revue en ligne KillingTheBuddha.com, pour laquelle il a recu un prix, il a contribue a differentes publications, dont le New York Times et le Washington Post. Il a egalement publie plusieurs livres de non-fiction salues par la critique, parmi lesquels un recit autobiographique intitule Vows: the Story of a Priest, a Nun and Their Son (2005) et Rag and Bone (2009), un essai sur les superstitions liees au culte des morts. Chansons pour la fille du boucher est son premier roman. Pour ce livre, il a recu le National Jewish Book Award en 2008 - decerne pour la premiere fois a un auteur non-juif -, la Sophie Brody Medal for outstanding achievement in Jewish literature et en 2009 l'Harold U. Ribalow Prize. Professeur de Creative Writing a l'Universite de Georgetown, ou il suit egalement des etudes de theologie, il habite a Washington D.C. avec sa femme et leurs deux filles.

Patrick has narrated numerous audiobooks including The Power of Six Sigma, which was a finalist for a 2001 Audie Award. In addition to narrating audiobooks, Patrick is an accomplished stage actor, director and stage combat choreographer. He has worked extensively Off-Broadway and regionally for companies in Utah, Kentucky, Pennsylvania, Wisconsin, Oklahoma, Virginia, South Carolina, Louisiana, New Jersey, New York and all over California, as well as Finland and Germany. Classically trained, his roles cover a wide range, from Vindice in The Revenger's Tragedy and Marc Antony in Julius Caesar to Oscar Madison in The Odd Couple and The Big Bad Wolf in The 3 Little Pigs.
Praise For Vows…
"Readers seeking detached biography will not find it in this wry and deeply affectionate tribute. Seductively well written, occasionally polemical, Manseau chronicles a son's attempt to make peace with the mysteries of faith and family."