Colossus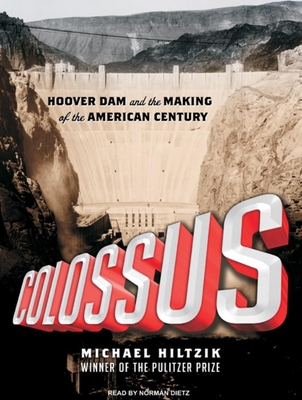 Colossus
Hoover Dam and the Making of the American Century
Tantor Media Inc, Compact Disc, 9781400116782
Publication Date: June 7, 2010
* Individual store prices may vary.
Buy Now
or
Shop Local
Enter your zip code below to purchase from an indie close to you.
Description
As breathtaking today as when it was completed, Hoover Dam ranks among America's greatest achievements. The story of its conception, design, and construction is the story of the United States at a unique moment in history: when facing both a global economic crisis and the implacable elements of nature, we prevailed. The United States after Hoover Dam was a different country from the one that began to build it, going from the glorification of individual effort to the value of shared enterprise and communal support. The dam became the physical embodiment of this change. A remote regional construction project transformed from a Republican afterthought into a New Deal symbol of national pride. Hoover Dam went on to shape not only the American West but the American century. Michael Hiltzik populates the epic tale of the dam's construction with larger-than-life characters, such as Theodore and Franklin Roosevelt, William Mulholland, and the dam's egomaniacal architect, Frank Crowe. Shedding real light on a one-of-a-kind moment in twentieth-century American history, Hiltzik combines exhaustive research, trenchant observation, and a gift for unforgettable storytelling in a book that is bound to become a classic in its genre.
About the Author
Michael Hiltzik is a Pulitzer Prize winning journalist and author who has covered business, technology, and public policy forthe "Los Angeles Times" for three decades. He currently serves as the "Times" s business columnist and hosts its business blog, " The Economy Hub". His books include "Big Science", "The New Deal", "Colossus", "Dealers of Lightning", and "The Plot Against Social Security". Mr. Hiltzik received the 1999 Pulitzer Prize for articles exposing corruption in the entertainment industry. He lives in Southern California with his wife and two children. Follow him on Twitter @HiltzikM.

Norman Dietz is a writer, an actor, and a solo performer. He has also performed frequently on radio and television, and he has recorded over 150 audiobooks, many of which have earned him awards from AudioFile magazine, the ALA, and Publishers Weekly. Additionally, AudioFile named Norman one of the Best Voices of the Century.
Praise For Colossus…
"Hiltzik tells the dam's tale well, with majestic sweep and a degree of detail that by rights ought to be numbing, but isn't; every iota of material fits snugly into the narrative, which, unlike the river, flows freely." ---San Franciscio Chronicle