13 Bankers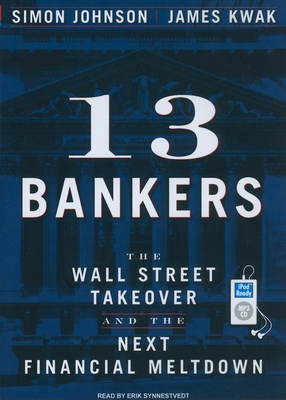 13 Bankers
The Wall Street Takeover and the Next Financial Meltdown
Tantor Media Inc, MP3 CD, 9781400166848
Publication Date: March 31, 2010
* Individual store prices may vary.
Buy at Local Store
Enter your zip code below to purchase from an indie close to you.
or
Buy Here
Description
Even after the ruinous financial crisis of 2008, America is still beset by the depredations of an oligarchy that is now bigger, more profitable, and more resistant to regulation than ever. Anchored by six megabanks, which together control assets amounting to more than 60 percent of the country's gross domestic product, these financial institutions (now more emphatically "too big to fail") continue to hold the global economy hostage, threatening yet another financial meltdown with their excessive risk-taking and toxic "business as usual" practices. How did this come to be-and what is to be done? These are the central concerns of 13 Bankers, a brilliant, historically informed account of our troubled political economy. In 13 Bankers, prominent economist Simon Johnson and James Kwak give a wide-ranging, meticulous, and bracing account of recent U.S. financial history within the context of previous showdowns between American democracy and Big Finance. They convincingly show why our future is imperiled by the ideology of finance (finance is good, unregulated finance is better, unfettered finance run amok is best) and by Wall Street's political control of government policy pertaining to it. The choice that America faces is stark: whether Washington will accede to the vested interests of an unbridled financial sector that runs up profits in good years and dumps its losses on taxpayers in lean years, or reform through stringent regulation the banking system as first and foremost an engine of economic growth. To restore health and balance to our economy, Johnson and Kwak make a radical yet feasible and focused proposal: reconfigure the megabanks to be "small enough to fail.
About the Author
Simon Johnson (Victoria, Australia) has 10 years experience as an IT security professional with a number of organizations and government departments. He co-founded and managed Shake Communications in 1997, an IT security business. In 1998 he co-founded SecuritySearch.Net, which at the time, was the largest IT security portal on the Internet. SecuritySearch.Net received more than 155,000 page views per month and sent free security newsletters to more than 16,000 subscribers worldwide, per week. The site was sold in 2002 to US security firm GFI. The newsletter subscription arm of the business was sold to US security firm, Relevant Technologies. Johnson has been interviewed in television and print media on IT Security related topics, including Business 2.0, Computerworld, Corporate Risk, CNET News.com, Internetnews.com, Newswire, SBS World News, TechWeb, The Age, Wired Magazine and ZDNet News. He s written content for Total Surveillance by John Parker (Piatkas Publishing UK, 2000) and reviewed the business and e-commerce chapters in the book, Internet and World Wide Web by Deitel (Prentice Hall, 2002).




Praise For 13 Bankers…
"Erik Synnestvedt reads with a strong and clear voice and an appropriate edge of indignation at the hubris of our nation's most powerful bankers." ---Publishers Weekly Audio Review