The Green Woman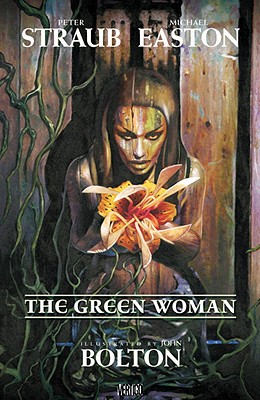 The Green Woman
Vertigo, Hardcover, 9781401211004, 151pp.
Publication Date: October 12, 2010
* Individual store prices may vary.
Not Currently Available for Direct Purchase
or
Shop Local
Enter your zip code below to purchase from an indie close to you.
Description
New York Times best-selling author Peter Straub resurrects his most sinister creation, Fielding "Fee" Bandolier, the unstoppable serial killer last seen in Straub's bestseller The Throat. Aging and tired of a life devoted to death, Fee is preparing to end his long career of bloodshed. Bob Steele is a disillusioned New York detective out for redemption and to him redemption means a one-man crusade to stop Fielding Bandolier. Steele's father cruelly named him after a Hollywood cowboy hero. The name has been a curse because Bob has very little hero in him. But he's going to give it one last try. Cop and killer fi nally face off in a mysterious midwestern pub, "The Green Woman Tavern." And in that abandoned place, an unspeakable evil stronger than either of them lies waiting to seal the fates of both men.
About the Author
Peter Straub is the "New York Times" bestselling author of more than a dozen novels, including "A Dark Matter". He has won the Bram Stoker Award for his novels "Lost Boy Lost Girl" and "In the Night Room", as well as for his recent collection "5 Stories". Straub was the editor of the two-volume Library of American anthology "The American Fantastic Tale". He lives in New York City.

Michael Easton (Writer/Creator) is the author of the critically acclaimed Soul Stealer trilogy. Featuring the art of Christopher Shy, the second installment Blood and Rain was named "Graphic Novel of the Year" in 2010 by Ain't It Cool News. Easton went on to write The Green Woman for DC /Vertigo with New York Times Best Selling Author, Peter Straub. Robert Rodriguez (Sin City) said of The Green Woman, "John Bolton is a God. Easton and Straub write about evil like it was their own invention."

John Bolton was appointed by President George W. Bush as United States Permanent Representative to the United Nations in 2005, and served until his appointment expired in December 2006. He was nominated for the 2006 Nobel Peace Prize for playing a major role in exposing Iran's secret plans to develop nuclear weapons. An attorney who has spent many years in public service and held high-level positions in the administrations of Presidents Ronald Reagan and George H. W. Bush, Bolton is currently a Senior Fellow at American Enterprise Institute in Washington, D.C., and a commentator for Fox News Channel. He lives outside of Baltimore, Maryland, with his wife and daughter.
Praise For The Green Woman…
"Peter Straub has written some of the most beautiful, disturbing and poetic
horror of the last century. It's a delight to see him turn his attention to
graphic novels. Chilling and haunting."
                                --Neil Gaiman

"John Bolton is a god and Straub and Easton write about evil like it was their own invention.
Let The Green Woman sink its claws into you."

 -- Robert Rodriguez, director of Sin City and Machete 

"Peter Straub is a living legend and John Bolton remains one of the great comics illustrators of our generation. Together with Michael Easton, these masters weave a beautifully macabre tale. A must read for horror fans."

-- Steve Niles, writer, 30 Days of Night, Freaks of the Heartland