The Killing Joke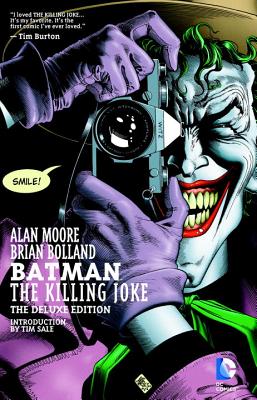 The Killing Joke
DC Comics, Hardcover, 9781401216672, 64pp.
Publication Date: March 19, 2008
* Individual store prices may vary.
Buy at Local Store
Enter your zip code below to purchase from an indie close to you.
or
Buy Here
Description
A "NEW YORK TIMES" BESTSELLER
Presented for the first time with stark, stunning new coloring by Bolland, BATMAN: THE KILLING JOKE is Alan Moore's unforgettable meditation on the razor-thin line between sanity and insanity, heroism and villainy, comedy and tragedy.
According to the grinning engine of madness and mayhem known as The Joker, that's all that separates the sane from the psychotic. Freed once again from the confines of Arkham Asylum, he's out to prove his deranged point. And he's going to use Gotham City's top cop, Commissioner Jim Gordon, and his brilliant and beautiful daughter Barbara to do it.
Now Batman must race to stop his archnemesis before his reign of terror claims two of the Dark Knight's closest friends. Can he finally put an end to the cycle of bloodlust and lunacy that links these two iconic foes before it leads to its fatal conclusion? And as the horrifying origin of the Clown Prince of Crime is finally revealed, will the thin line that separates Batman's nobility and The Joker's insanity snap once and for all?
Legendary writer Alan Moore redefined the super-hero with WATCHMEN and V FOR VENDETTA. In BATMAN: THE KILLING JOKE, he takes on the origin of comics' greatest super-villain, The Joker and changes Batman's world forever.
Stunningly illustrated, BATMAN: THE KILLING JOKE, THE DELUXE EDITION has been lushly re-colored by artist Brian Bolland, presenting his original vision of this modern classic for the first time.
About the Author


Brian Bolland is best known to US readers for his ground-breaking work with writer Alan Moore on the one-shot Batman: Killing Joke graphic novel. Kevin O'Neill Along with fellow 2000 AD alumni Pat Mills, O'Neill cocreated the cult hero Marshall Law and had even more success when he teamed up with Alan Moore to illustrate The League of Extraordinary Gentlemen - which was adapted into a big budget Hollywood movie starring Sean Connery. Simon Bisley's highly dynamic artwork made his two major series in the Galaxy's Greatest Comic - A.B.C. Warriors: The Black Hole and Slaine: The Horned God - hugely popular, as they remain to date. He also illustrated the hugely successful first Batman/Judge Dredd crossover story, Judgement on Gotham. Steve Dillon is a fan-favourite 2000 AD writer and artist, and the creator of both Hap Hazzard and the Irish Judge Joyce. Together with 2000 AD writer Garth Ennis, Steve co-created the hugely successful and critically acclaimed Preacher for DC Comics' imprint, Vertigo.


Praise For The Killing Joke…
"Easily the greatest Joker story ever told, BATMAN: THE KILLING JOKE is also one of Alan Moore's finest works. If you've read it before, go back and read it again. You owe it to yourself."—IGN

"...a genuinely chilling portrayal of Batman's greatest foe."—Booklist