Superman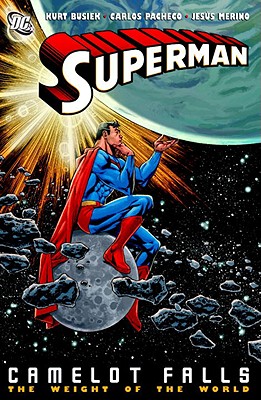 Superman
Camelot Falls, Volume 2: The Weight of the World
DC Comics, Paperback, 9781401218652, 128pp.
Publication Date: March 3, 2009
* Individual store prices may vary.
Buy Now
or
Shop Local
Enter your zip code below to purchase from an indie close to you.
Description
The epic storyline concludes in this volume collecting SUPERMAN #662-664, 667-668 and SUPERMAN ANNUAL #13! The Man of Steel defends Metropolis from harm, but now faces a dilemma: are his heroics only making things worse?
About the Author
Multiple Eisner Award-winning superstar comic book writer Kurt Busiek has written everything from SUPERMAN to SPIDERMAN alongside his own creation, fan-favorite ASTRO CITY. In 2003, Busiek was picked by Marvel Comics and DC Comics to pen the best-selling JLA / AVENGERS crossover event; the first and only meeting between the two competing franchises. Daryl Gregory's first novel, PANDEMONIUM, appeared from Del Rey Books in 2008 and won the Crawford Award for 2009. It was also a finalist for several other awards, including the Shirley Jackson Award and the World Fantasy Award. His second novel, THE DEVIL'S ALPHABET, appeared in November, 2009, and was named one of the best books of the year by Publishers Weekly. Scott Godlewski is co-creator of MYSTERIOUS ADVENTURE MAGAZINE and a freelance comic book illustrator and writer living in Mesa, Arizona.

Socio fundador de Xn. Como consultor de la firma, disena y facilita la implementacion de soluciones de desarrollo ejecutivo y cambio organizacional basado en Indagacion Apreciativa. Con frecuencia es invitado a participar de conferencias para organizaciones y empresas de diversos paises, sobre temas de Liderazgo, Actitudes y Exito, entre otras. En 2010 publico su libro "No Mas Palidas. Cuatro actitudes para el exito," editado por Xn Publishing, unidad editorial y de contenidos de Xn. Tuvo una extensa y destacada actividad en IBM. Fue Presidente y Gerente General de IBM Uruguay; Director de Satisfaccion de Clientes, Director de Sector Publico para IBM Latinoamerica; Presidente y Gerente General de IBM Latinoamerica Sur. Es miembro del directorio de ISBEL S.A. (www.isbel.com.uy) y T2Voice S.A.(www.t2voice.com). Es Ingeniero de Sistemas graduado en la Universidad de la Republica (Uruguay). Ha obtenido educacion ejecutiva en la Universidad de Carnegie Mellon, Pittsburgh y la Universidad de Columbia, New York, en Estados Unidos.