Superman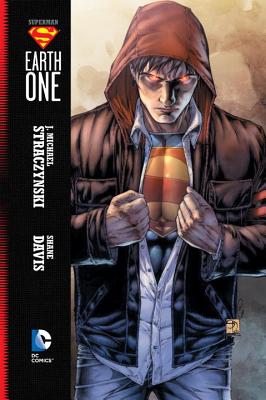 Superman
Earth One
DC Comics, Hardcover, 9781401224684, 1pp.
Publication Date: November 2, 2010
* Individual store prices may vary.
Buy Now
or
Shop Local
Enter your zip code below to purchase from an indie close to you.
Description
J. Michael Straczynski, the creator of Babylon 5, joins forces with rising star artist Shane Davis (SUPERMAN/BATMAN: THE SEARCH FOR KRYPTONITE) to create this original graphic novel that gives new insight into Clark Kent's transformation into Superman and his first year as The Man of Steel. This is the first in a new wave of original DC Universe graphic novels, featuring top writers' and illustrators' unique takes on DC characters.
About the Author
HARLAN ELLlSON(r) has been characterized by The New York Times Book Review as having "the spellbinding quality of a great nonstop talker, with a cultural warehouse for a mind." The Los Angeles Times suggested, "It's long past time for Harlan Ellison to be awarded the title: 20th century Lewis Carroll." And the Washington Post Book World said simply, "One of the great living American short story writers." He has written or edited 100 books; more than 1700 stories, essays, articles, and newspaper columns; two dozen teleplays, for which he received the Writers Guild of America most outstanding teleplay award for solo work an unprecedented 4 times; and a dozen movies. Publishers Weekly called him "Highly Intellectual." (Ellison's response: "Who, Me?"). He won the Mystery Writers of America Edgar Allan Poe award twice, the Horror Writers Association Bram Stoker award 6 times (including The Lifetime Achievement Award in 1996), the Nebula award of the Science Fiction Writers of America 4 times, the Hugo (World Convention Achievement award) 8 1/2 times, and received the Silver Pen for Journalism from P.E.N. Not to mention the World Fantasy Award; the British Fantasy Award; the American Mystery Award; plus 2 Audie Awards and 2 Grammy nominations for Spoken Word recordings. He created great fantasies for the 1985 CBS revival of The Twilight Zone and The Outer Limits, traveled with The Rolling Stones; marched with Martin Luther King from Selma to Montgomery; created roles for Buster Keaton, Wally Cox, Gloria Swanson, and nearly 100 other stars on Burke's Law; ran with a kid gang in Brooklyn's Red Hook to get background for his first novel; covered race riots in Chicago's "back of the yards" with the late James Baldwin; sang with, and dined with, Maurice Chevalier; once stood off the son of the Detroit Mafia kingpin with a Remington XP-l00 pistol-rifle, while wearing nothing but a bath towel; sued Paramount and ABC-TV for plagiarism and won $337,000. His most recent legal victory, in protection of copyright against global Internet piracy of writers' work-a four-year-long litigation against AOL et al.-has resulted in revolutionizing protection of creative properties on the web. (As promised, he repaid hundreds of contributions [totaling $50,000] from the KICK Internet Piracy support fund.) But the bottom line, as voiced by Booklist, is this: "One thing for sure: the man can write." He lives with his wife, Susan, inside The Lost Aztec Temple of Mars, in Los Angeles.


Praise For Superman…
"JMS has created a brilliant breathing world of consequence and DC is delivering this vision in epic scope.. . . Masterful. . . . truly extraordinary" – AIN'T IT COOL NEWS
"This is a Superman for the 21st century. With SUPERMAN: EARTH ONE, Straczynski and Davis inject the folk tale and legend that is Superman's origin with a modern, vital and forward-looking energy that makes for a refreshing, epic and challenging super-hero adventure. . . . SUPERMAN: EARTH ONE channels the best tales of Superman with a look toward the future, by two of the brightest talents the industry has to offer."—/FILM
"Excellent.... From its poignant domestic moments, delivered in mostly warm, fuzzy flashbacks, to its blockbuster battles, Straczynski's Superman: Earth One renders like a feature film just waiting for adaptation. "—WIRED
"Artist Shane Davis rightly gives the book a photorealistic look to drive home that this is more science fiction than superhero romp. . . This is a handsome, rock-solid Superman fable that gets to the scifi pith of his legend."—io9
"Brooding."—CNN
"What do you get when you combine Twilight and a classic superhero? The new Superman."—THE HOLLYWOOD REPORTER
"The new Superman doesn't sparkle, but he does brood and smolder. Artist Shane Davis has created a moody 20 year-old version of the iconic hero who rocks a hipster look."—NEW YORK PRESS
"Shane Davis really shines in this book. . . . The art comes alive with energy and design"—IFANBOY
"Davis provides sleek figures, intense detail, and subtle integration of current hairstyles and fashions (including a nip and tuck to the old supersuit itself) that do the lion's share of the contemporizing … [and] Straczynski . . . distinguishes the work, humanizing the dynamic between characters and adding a compelling twist of melancholy to young Clark Kent's search for purpose."—BOOKLIST
"Straczynski, a master of building characters, brings depth and emotion to the Man of Steel and Davis' artwork is a joy to behold."—AM MEW YORK