The Losers, Book One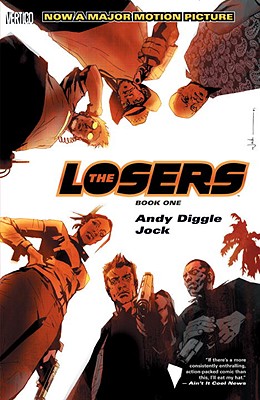 The Losers, Book One
Vertigo, Paperback, 9781401227333, 304pp.
Publication Date: February 2, 2010
* Individual store prices may vary.
Buy at Local Store
Enter your zip code below to purchase from an indie close to you.
or
Not Currently Available for Direct Purchase
Description
With the eagerly anticipated Warner Bros. Pictures movie The Losers set to reach theaters in April 2010, DC Comics collects the first twelve issues of THE LOSERS -- from the ANTE UP and DOUBLE DOWN TPs -- into a single, explosive volume!

This collection introduces The Losers, formerly an elite U.S. Special Forces unit that served as the covert bloody hand of America until they stumbled across a C.I.A. secret they couldn't ignore. The C.I.A. tried to kill them, but they're about to learn that it takes more than one try to eliminate The Losers.
About the Author
Andy Diggle's "The Losers" was adapted into a major Warner Brothers movie in 2010. He was formerly the editor of 2000 AD. As a writer he channelled extraordinary vision and enthusiasm into the creation of "Lenny Zero" and "Snow/Tiger," both immediate fan-favourites. His first work for a US publisher was with the Sandman/Hellblazer spin-off series "Lady Constantine," after which he co-created "The Losers" to great critical success with his former "Lenny Zero" collaborator Jock, and was subsequently named as one of Entertainment Weekly magazine's "Breakout Stars of 2003." He has since written "Swamp Thing";"Adam Strange";"Silent Dragon" and the launch arc of "Batman Confidential."
Jock is one of 2000 AD's finest young creators. As well as illustrating "Judge Dredd";"Pulp Sci-Fi";"Tharg the Mighty" and "Tor Cyan," Jock co-created "Lenny Zero" and "The Losers" with Andy Diggle, and is the concept artist of the re-booted 2011 "Judge Dredd" movie.
Also features stories by writers John Wagner & Alan Grant and artist Greg Staples.