Black Lantern Corps, Volume Two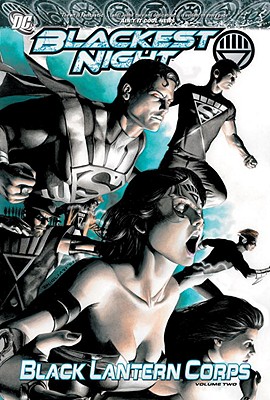 Black Lantern Corps, Volume Two
DC Comics, Paperback, 9781401228033, 240pp.
Publication Date: July 26, 2011
* Individual store prices may vary.
Buy Now
or
Shop Local
Enter your zip code below to purchase from an indie close to you.
Description
Writers Geoff Johns, James Robinson and Greg Rucka are joined by artists Scott Kolins, Eddy Barrows and Nicola Scott for this essential BLACKEST NIGHT storyline tie-in title that features The Flash, Wonder Woman and the Justice Society of America dealing with their greatest villains and loved ones returning from the dead as evil Black Lanterns. The hardcover edition includes Blackest Night: Wonder Woman #'s 1-3, Blackest Night: JSA #'s 1-3 and Blackest Night: Flash # 's 1-3.
About the Author
Geoff Johns is DC Comics Chief Creative Officer and an award-winning writer responsible for such crossover epics as Green Lantern, Blackest Night and Infinite Crisis, and was a key architect behind DC s The New 52 relaunch. He has written TV episodes of Smallville, Green Arrow and Flash and is Executive Producer on the forthcoming Batman vs. Superman: Dawn of Justice movie.

James Robinson is the David Florence Professor of Government at Harvard University. He is the co-author, with Daron Acemoglu, of the book Economic Origins of Dictatorship and Democracy, published by Cambridge University Press in 2006, which was awarded the 2007 Woodrow Wilson Foundation Award by the American Political Science Association for 'the best book published in the United States during the prior year on government, politics, or international affairs'. He edited the book Natural Experiments in History with the geographer and ecologist Jared Diamond in 2010. His most recent book, also written with Daron Acemoglu, is entitled Why Nations Fail and was declared one of the ten best books of 2012 by the Washington Post and is already being translated into 23 languages, including Arabic and Mongolian. His main research interests are in political economy, comparative economic development, and economic history with a focus on sub-Saharan Africa and Latin America.