Get Jiro!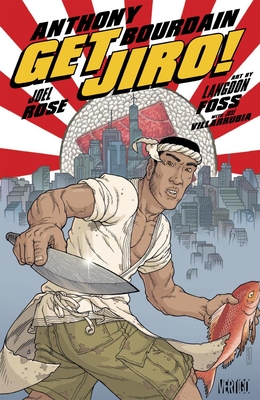 Get Jiro!
Vertigo, Paperback, 9781401228286, 160pp.
Publication Date: May 7, 2013
* Individual store prices may vary.
Buy at Local Store
Enter your zip code below to purchase from an indie close to you.
or
Buy Here
Description
A"New York Times"Bestseller
In a not-too-distant future L.A. where master chefs rule the town like crime lords and people literally kill for a seat at the best restaurants, a bloody culinary war is raging.
On one side, the Internationalists, who blend foods from all over the world into exotic delights. On the other, the "Vertical Farm," who prepare nothing but organic, vegetarian, macrobiotic dishes. Into this maelstrom steps Jiro, a renegade and ruthless sushi chef, known to decapitate patrons who dare request a California Roll, or who stir wasabi into their soy sauce. Both sides want Jiro to join their factions. Jiro, however has bigger ideas, and in the end, no chef may be left alive
Anthony Bourdain, top chef, acclaimed writer (Kitchen Confidential, Medium Raw) and star of the hit travel show, No Reservations, co-writes with Joel Rose (Kill Kill Faster Faster, The Blackest Bird) this stylized send-up of food culture and society, with detailed and dynamic art by Langdon Foss.
About the Author
Anthony Bourdain is the author of the novels Bone in the Throat, The Bobby Gold Stories, and Gone Bamboo, in addition to the mega-bestseller Kitchen Confidential and A Cook s Tour. His work has appeared in the New York Times, The New Yorker, and he is a contributing authority for Food Arts magazine. He is the host of the popular television show Parts Unknown.

Joel Rose is the author of Kill the Poor, Kill Kill Faster Faster, and New York Sawed in Half. He founded the literary magazine Between C&D and lives in New York City and on the Jersey shore.


Praise For Get Jiro!…
"'Get Jiro!'" unfolds in a dystopian version of Los Angeles where today's (mostly) polite and academic discussions about food have evolved into grisly gastronomic feuds.... In some ways, "Get Jiro!" represents a coming-full-circle thing for Mr. Bourdain."—The New York Times

"What's an ex-yakuza enforcer turned sushi chef to do, ask culinary expert and author Bourdain (Medium Raw) and co-writer Joel Rose (La Pacifica) in this boisterous lampooning of food culture, a pet project for Bourdain, who seems to revel in the unrestrained narrative allowed in a comic book. Their answer will be enjoyable to anyone versed in samurai revenge stories or the films of Sam Peckinpah.... The book's saving grace is the wonderfully clean and detailed art by an all-star team of artists led by illustrator Foss, whose meticulously researched and composed visuals mirror Jiro's precision with a knife and produce equally appetizing results."—Publishers Weekly

"Bourdain...promised 'an ultra-violent slaughter-fest over culinary arcane,' and he delivers pretty much exactly that....Bourdain let's his foodie id run wild, extolling the elegant simplicity of a peasant dish like pot-au-feu here and caving in skulls with sauté pans there.  Foss' stubby, dough-faced figures walk a fine line between goofy and thuggish, and fall apart with great ickiness when dismembered. Equal parts blunt culinary opinion-mongering and satiric takedown of the very same chef-worship culture Bourdain helped create, this amusing diversion coasts comfortably in the wake of the standard bearer of gore-soaked foodie comics..."—Booklist